China buys US soybeans for first time since trade war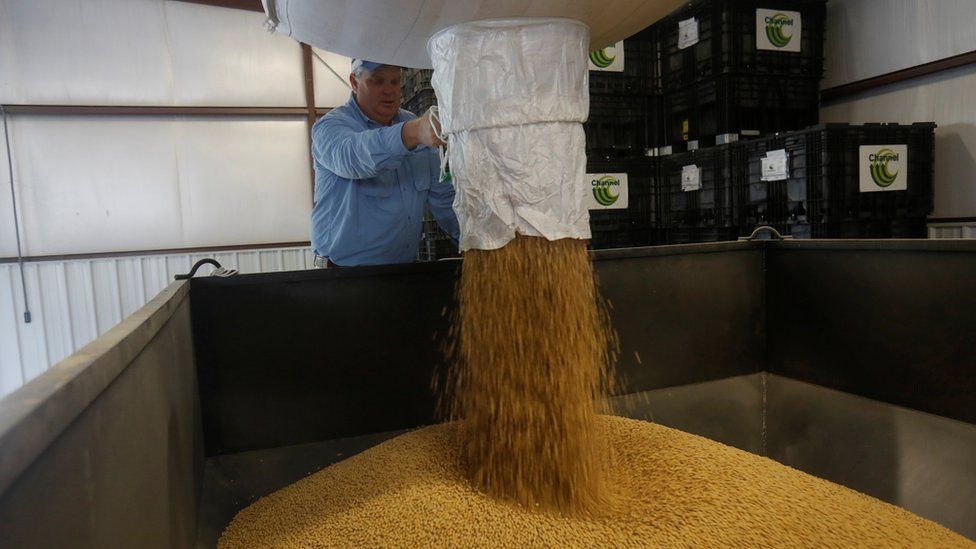 China has bought US soybeans for the first time since the trade war between the two countries started in July.
The country's finance ministry also confirmed it would temporarily reduce tariffs on US car imports from 40% to 15%, beginning on 1 January.
In announcing the tariff suspension, China said it hoped the two sides would speed negotiations.
US officials hailed China's purchase of 1.13 million tonnes of US soybeans on Thursday as a "great step" - but said it remained uncertain if a broader deal would follow.
"Having a million, million-and-a-half tonnes is great, it's wonderful, it's a great step," said Steve Censky deputy secretary of the US Department of Agriculture.
"But there needs to be a lot more as well, especially if you consider it in a normal, typical year, we'll be selling 30 to 35 million metric tonnes to China."
Analysts also cautioned against interpreting it as a sign that the trade war was cooling.
"[It's] a battle for technology, a battle for 5G," he said. "In particular, Huawei has become one of the world's biggest suppliers of telecoms technology - and the US doesn't really like that.
"[So that arrest] is giving you a much better, a much clearer message on where the trade war lines in the sand are really being drawn."
The trade war started over US claims that China engages in "unfair" trade practices, such as intellectual property theft.
It has seen the two countries levy tit-for-tat tariffs on hundreds of billions of dollars of goods, including cars and soybeans.
Earlier this month, the two sides agreed to postpone any further increases, pending negotiations. US officials also said China had committed to major purchases of US goods and reducing the tariffs on US-made cars.
China is by the far the world's biggest importer of soybeans, accounting for some 60% of the global trade in the commodity last year.
The country, which uses the crop to feed livestock, has historically relied on supplies from both the US and Brazil, in part due to seasonality.
But purchases from US farmers - an important part of Mr Trump's political base - have plummeted since the trade war began.
Thursday's purchase failed to excite traders in the US, who said the numbers fell short of estimates.
"It's a start, but it's not nearly enough to fix our problems in regards to soybeans and a soybean oversupply in this country," said Joe Vaclavik, president of Standard Grain, a Tennessee-based brokerage.
Mr Carnell from ING Bank said he thought China's purchase on Thursday was more about convenience than anything else.
"The simple fact is China needs a lot of soybeans and it's been buying them from Brazil, not the US," he said.
"But Brazil could never supply all the soybeans China needed, so ultimately [China has] been driven back to US soybeans. And I think it's just convenient for them to do that right now."