Thomas Cook: What's gone wrong at the holiday firm?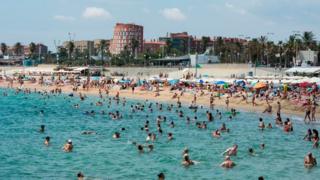 Travel firm Thomas Cook has come a long way since its formation in rural Leicestershire during the early Victorian era.
Founded in Market Harborough in 1841 by businessman Thomas Cook, the fledgling company organised railway outings for members of the local temperance movement.
Some 178 years later, it is a huge global travel group, with annual sales of £9bn, 19 million customers a year and 22,000 staff operating in 16 countries.
Thomas Cook has had a chequered history, including being nationalised in 1948 - when it became part of the state-owned British Railways - and owning the raucous Club 18-30 youth brand, which it recently closed after failing to find a buyer.
However, just as the travel world has progressed from temperance day trips, so the modern business and leisure market is also changing, and at a far faster pace than in previous decades.
The firm is being buffeted by a number of factors: financial, social and even meteorological, with last summer's heatwave affecting bookings.
Last summer, shares in Thomas Cook were trading at just below 150p. Now, after the company's third profit warning in less than a year, the price is now just a fraction of that.
Worse still, analysts at Citigroup bank have described the travel firm's shares as "worthless".
Brexit impact
Thomas Cook has warned of "further headwinds" for the rest of the year after reporting a £1.5bn loss for the first half of 2019.
Some £1.1bn of the loss was caused by the decision to write down the value of My Travel, the business it merged with in 2007.
It said there was "now little doubt" that Brexit had caused customers to delay their summer holiday plans.
The firm is also looking to sell its airline and says it has received "multiple" bids for its planes. Its auditor has warned of "material uncertainties" over the airline sale, on which a new £300m bank facility depends.
Potential buyers from outside the EU are not able to own more than 49% of the airline because of European Commission rules.
Despite worries over its future, Thomas Cook has sought to reassure customers, saying it is "business as usual".
"We have ample resources to operate our business and at the same time, as usual, our liquidity position continues to strengthen into the summer period," it has said.
The summer months are the most profitable for travel companies, but the winter can be tougher as far fewer people tend to go away.
As well as weather issues, and stiff competition from online travel agents and low-cost airlines, there are other disruptive factors, including political unrest around the world.
And many holiday-makers are putting together their own holidays and not using travel agents.
However, despite this, the package holiday share of the market has remained broadly unchanged.
One reason for this is that most air package holidays sold by travel companies based in the UK have ATOL protection.
This protection means that if the business collapses while someone is away on holiday, they will be able to finish their trip and then travel home.
If a business folds before someone's trip, the scheme will provide a refund or replacement holiday.
Thomas Cook has closed 21 of its stores, its currency arm Thomas Cook Money is under review and more "cost efficiencies" are planned.
It says more of its 566 stores could close as leases end, and that 150 roles will be cut from its Peterborough head office.
Thomas Cook's main rival TUI is less reliant on package holidays and has diversified into the cruise and hotel businesses.