Dry summer causes record subsidence claims, say insurers
By Simon Read
Personal finance reporter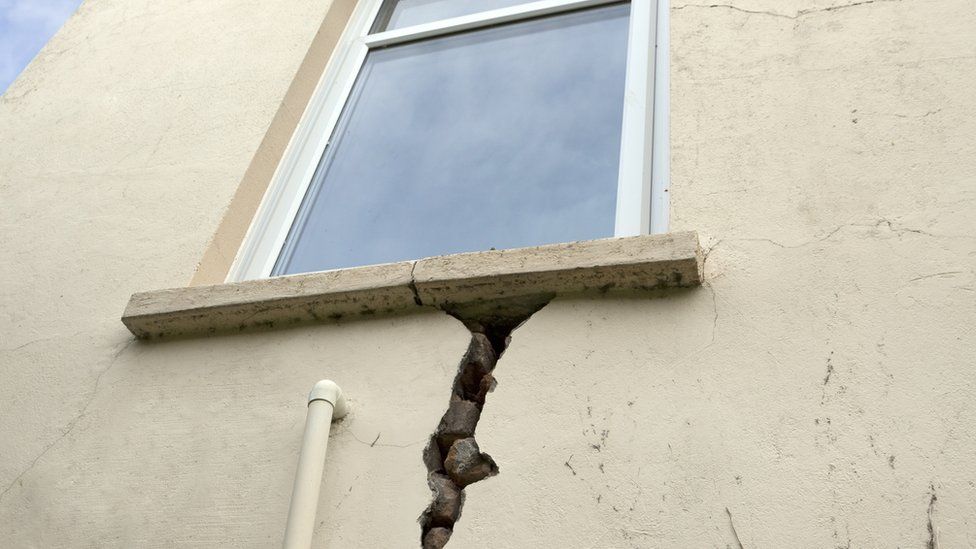 The hot summer led to a huge surge in subsidence problems as British homes suffered in the dry heat.
Insurers said claims between July and September were at the highest level for 12 years, reaching numbers last seen in the heatwaves of 2006 and 2003.
More than 10,000 households made claims worth £64m, but experts told homeowners not to panic if cracks appear.
"There are many reasons why cracks may have occurred," said Laura Hughes of the Association of British Insurers.
The worst hit was south-eastern England, where buildings are well-known for being constructed on subsidence-prone clay soil.
Subsidence happens when the ground beneath a building loses moisture and shrinks.
It can be caused by several factors, including prolonged dry spells that cause soil to lose water, as well as trees and shrubs which can absorb significant volumes of water from the soil.
Clay soils in particular are seen as vulnerable, while leaking underground pipes because of problems with drains and water mains can also cause soil to soften.
The good news for victims is that it is normally covered by buildings insurance.
Laura Hughes said: "Insurers understand that this is a stressful time for affected homeowners and are providing widespread support to help with repairs.
"Get in touch with your insurer if you believe your home is experiencing subsidence and they'll be on hand with the best expertise and the best technology."
Subsidence warning signs can include cracks suddenly emerging in properties, perhaps around doors and windows, and often appearing thicker than a 10p coin.
The 10,000 claims between July and September were about four times the 2,500 claims seen during the previous quarter, when the total value was £14m.
The ABI said the 357% increase in the value of claims was the highest quarterly jump since records started more than 25 years ago.
There is no typical approach to subsidence repairs, as this depends on the building, the circumstances and the severity of individual cases, the ABI said.
Extreme weather also prompted a surge in insurance claims earlier in 2018.
The Beast from the East and Storm Emma caused widespread disruption in late February and March and led to property insurers paying out a record-breaking £194m in burst pipe claims in the first quarter of the year.
Here are the ABI's tips for spotting the potential signs of subsidence, rather than just general wear and tear to buildings:
Subsidence cracks usually appear very suddenly, rather than gradually.
They are usually diagonal, and wider at the top than the bottom.
They tend to be thicker than a 10p coin.
They are often found around doors and windows.
Subsidence may also cause dry wallpaper to rip or crinkle.
Meanwhile, insurance giant Aviva has responded to a Competition and Markets Authority inquiry into so-called "loyalty penalties" by introducing a new type of "subscription-style" cover.
AvivaPlus will be rolled out over the next few weeks and will have a renewal price guarantee to ensure existing customers are offered a price that matches or betters that quoted for an equivalent new customer.
The CMA acted after receiving a super-complaint from Citizens Advice in September about long-term customers overpaying for key services such as household insurance, broadband and savings accounts.