Danish firm claims first biofuel commercial sea voyage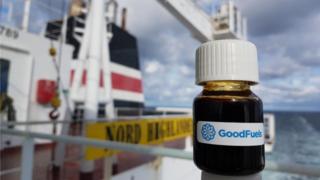 As things stand, the vast majority of ocean-going vessels that transport goods across the globe run on what is known as "heavy fuel oil".
It is thick, black and cheap.
Dirk Kronemeiier describes it as the "dirtiest fuel ever invented by mankind."
He believes his biofuel company, Good Fuels, has developed part of the solution to cutting the shipping industry's huge carbon footprint.
Shipping is estimated to contribute more than 2% of global carbon dioxide emissions. However, as global trade grows, that figure is expected to rise.
The UN body that regulates shipping, the International Maritime Agency, says the industry needs to cut total CO2 emissions by 50% by 2050.
Mr Kronemeiier describes his company's biofuel as "a game changer" because existing ships do not need to be modified to run on it.
Over three years, bioengineers at his Dutch company developed the fuel, which is made from used cooking oil, but could also be made from urban waste or forest residue.
When burnt, the fuel produces carbon dioxide. But the firm says this is offset by the fact that the fuel is made from organic material, which has absorbed a similar amount of the gas at a previous stage.
It is therefore deemed to be mostly carbon neutral.
The company says its fuel has been certified by independent experts and is sustainable. It says it would never use controversial materials such as palmoil.
Shipping first
In September a ship belonging to the Danish company D/S Norden travelled from the Netherlands to Estonia, powered solely by the biofuel.
The company says this is the first time that an ocean-going vessel has made such a voyage.
D/S Norden's chief executive, Jan Rindbo, plans to start offering carbon-neutral shipping to his customers early next year.
"The beauty of this is that we can take existing ships and burn this biofuel," he says.
Mr Rindbo says powering his ships on biofuel is more expensive than the traditional heavy fuel oil.
But new restrictions, which take effect in 2020, mean shipping companies will no longer be able to use the cheapest, sulphur-rich type of shipping oil, and so biofuels will become more competitive.
"There is potential for this to be larger scale," he says, adding that some of D/S Norden's customers have already shown an interest.
Biofuels have "a significant role to play" in cutting the shipping industry's carbon emissions, according to Edmund Hughes from the International Maritime Organization.
He says as long as biofuels are made from a sustainable source using renewable energy, they are a big part of the answer as to how to clean up the shipping industry.
However Mr Rindbo says the shipping industry as a whole needs to wake-up and realise the potential benefits of biofuels.
"I don't think it is really on the radar," he says.
Most of the talk is still about the transition to fossil fuels with a lower sulphur content.
He believes biofuels presents a much bigger opportunity as they address the crucial issue of carbon emissions as well.