'Opaque' tax system leads to scams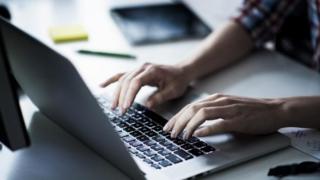 Fraudsters are using a lack of transparency in the UK's tax system to steal people's money, an expert has said.
Chas Roy-Chowdhury of accountancy body ACCA said ordinary taxpayers were the weak point in the battle against fraud.
They should not be criticised, he said, as con artists were exploiting the lack of interaction with the authorities.
On Wednesday, the BBC revealed how fraud reports to HM Revenue and Customs (HMRC) had risen sharply.
BBC Radio 5 Live's Wake Up to Money reported that cases had risen to about 85,000 a month now, compared with 70,000 on a typical month last year.
These are cases when fraudsters contact potential victims via phone, text or email, claiming to be from HMRC, and often suggesting people are owed a tax refund or need to pay more.
HMRC said there had been a big rise in the number of phone scams, from just a few hundred last year to 10% of all scams now.
Fraudsters often "spoof" the official HMRC phone number, which appears on the screen of the recipient's phone to make it look believable.
Mr Roy-Chowdhury, who is head of taxation at ACCA, said that it was understandable that people were tricked.
"The weakest link is the taxpayer. It is difficult to be too critical of the taxpayer and HMRC because many of the scammers are using the opaqueness of tax and our interactions or lack of with HMRC to steal the taxpayers money," he said.
"Most people are scared of HMRC and regardless of how fully up to date their tax affairs are will always, because of the opaqueness of tax, give HMRC the benefit of the doubt and think they have underpaid."
He suggested people checked that any correspondence with HMRC tied in with an individual's tax assessment.
He also urged people to look up the official HMRC phone numbers before calling, rather than assuming any number they were told was correct.
"It is a new world we live in when it comes to tax scams, don't be a victim and do your own due diligence. Just a few simple checks to avoid being taken for a ride," he said.