Is it ever OK to charge family for Christmas lunch?
By Katie Hope
Business reporter, BBC News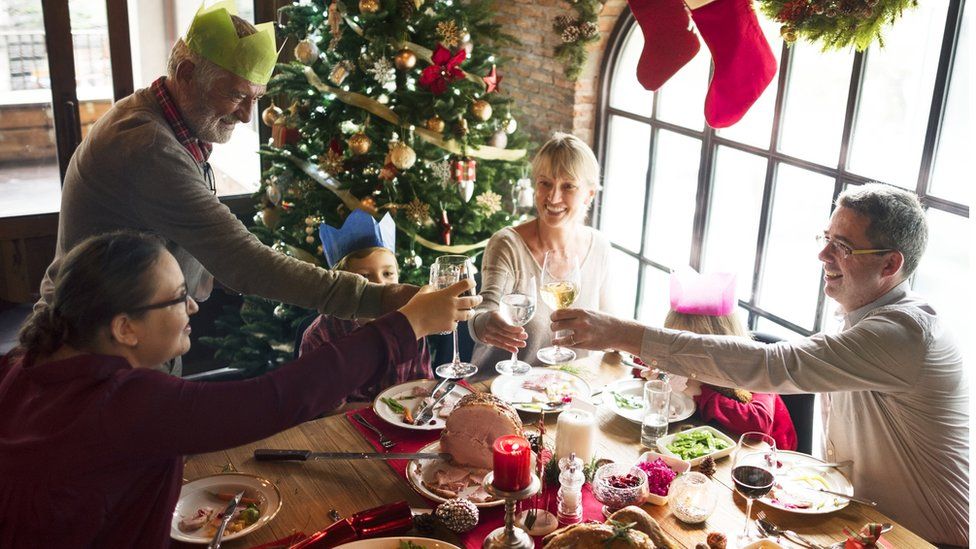 Hosting Christmas lunch for friends and family can be expensive, so could charging them for the meal be a way to cope?
This time of year is pretty pricy for most people. There are presents to buy, Christmas outings and parties to shell out for and on top of that there's the traditional yuletide lunch.
The cost of festive nibbles, fancy side dishes, the turkey, cake, pudding and alcohol all add up, especially if you're hosting extended family and friends, as well as your immediate family.
And that's before you account for the stress and extra work involved in cooking such a large meal.
Could charging guests for their meal be one way to cope?
When a user on parenting forum Mumsnet said her mother-in-law had decided to charge her family £17-a-head to attend this year's Christmas dinner it sparked a mixed response.
Some thought it was fair enough given the cost, while others said it simply wasn't in keeping with the season's spirit of togetherness and generosity.
Kimberly Bree, a project manager from Canterbury, is one of six siblings and has nine nieces and nephews. In total, when the whole family get together there are 23 of them.
One of her sisters has a house large enough to occasionally host the entire group for Christmas, but Kimberly says once alcohol, the trimmings and snacks are included the bill can run into the hundreds of pounds.
She says there's no way the family would let her sister pay.
"We always suggest that the host buys and cooks and asks for help, and also lets us know what the cost shared between us is.
"Given the spirit of Christmas I think it would be rather horrible of us to do anything other than share the cost out," she says.
But she points out that "sharing costs" has a different connotation to "charging" and says her family's approach is about "not wanting to overburden the host" rather than "telling people they owe you money".
Georgie Anderson, a marketing assistant in London, also says she'd be happy to contribute some money for a Christmas dinner, and like many of us would rather pay than do it herself.
"I see it less as being 'charged' than paying my part. Plus, making Christmas dinner is a bit of a palaver," she says.
Yet asking friends or family to contribute financially for Christmas is a touchy topic.
When I asked people on social media what they thought of the idea, most were firmly opposed.
"Staggered", "the most absurd holiday thing I've ever heard of" and "a great way to reduce the number of people you have to cook for to zero" were some of the responses.
"Then why invite them? Tell everyone Christmas is cancelled," said Samantha.
There's no doubt that some people do do it, though.
Daniella told the BBC that her mother-in-law charged £40 a head a few years ago, but they allowed her then nine-year-old son to eat for free.
"I was so shocked and we did pay it but we haven't been for dinner since and don't think we will," she says.
Myles says his mum charges the whole family £10-a-head and asks them to bring their own vegetables and gravy. "I personally don't mind paying because service includes washing up but it's divided the family for many years."
My mum charges the whole family £10 a head for the service and we all have to bring our own veg and gravy!! @shellypow53

— Myles (@MylesPowponne) November 26, 2018
The authority on etiquette and behaviour, Debretts, the publisher of the A-Z of Modern Manners, is unequivocal that charging guests is unacceptable.
"You have invited them to your home, and it therefore isn't appropriate to expect them to contribute monetarily to the cost of your dinner," says managing director Renee Kuo.
But she adds that family accepting invitations also have a responsibility to be good guests, and can't simply relax to the point where we forget good manners - as many of us do when we return home for the holidays.
Good guests should bring a bottle or something to contribute and should also offer to help out. And good hosts, she suggests, shouldn't be martyrs and must feel free to accept offers of contributions and even suggest a particular side, main, pudding or drink.
She is adamant, however, that mentioning cold, hard cash is simply not on.
"Asking them to pay, however, is a step too far. Consider booking a set Christmas meal at a local restaurant instead," she suggests.
Karen Barnes, editor of monthly food magazine Delicious, agrees, saying asking people to pay would "feel wrong somehow".
She points out that the standard response when you're invited to any kind of gathering is: Is there anything I can bring?
"That's the perfect opportunity to say YES,'' she says.
"My suggestion would be to ask people if they'd be happy to bring something, like the fizz to start the meal or perhaps the stuffings and a pudding.
"That's what we do in our family - everyone makes a practical (rather than a monetary) contribution and it works really well."
But there's no getting away from the high cost of Christmas.
The typical family spends a whopping £750 on Christmas each year, according to Steve Nowottny, news and features editor at MoneySavingExpert.
"Throw in the pressure of catering for extended family too and it's little wonder rows can erupt," he says.
He believes people often feel too much pressure to live up to an idealised image of Christmas and spend more than they can afford.
His advice on keeping costs down is to work out a budget and stick to it, switching to cheaper brands when you do the big Christmas food shop if necessary.
Yet when it comes to the question of charging or not, he sits firmly on the fence.
"Who pays for what is ultimately down to each family," he says diplomatically.
Related Internet Links
The BBC is not responsible for the content of external sites.