Childcare: 'I left my job to spend time with my baby'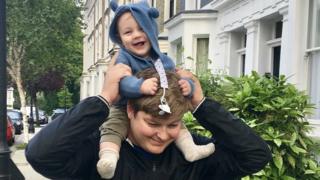 James Cornwell found it tough to return to work after his baby son was born. He and his wife had no family help and the baby kept him awake much of the night.
When his firm refused to offer him more flexibility to help him cope, he quit.
The struggle of juggling a job with family, whether that's kids or elderly relatives, is familiar to many of us.
Some firms try to help. US bank Goldman Sachs, for example, recently said it would offer staff emergency nannies or carers. But should firms do more?
Goldman's new policy allows UK staff 20 days of emergency "in-home" care, charged at £4 an hour, well below the market rate. Workers can use it to pay for an emergency nanny, to look after an ill child or to take care of an elderly relative who needs short-term assistance.
Sally Boyle, the firm's European head of human resources, said the new policy was driven by conversations with staff on what would be helpful to them inside and outside of work.
"Providing care to children, elderly parents or other dependants, is a significant part of many employees' lives. It's important we recognize the challenges that can come from balancing these commitments with work," she added.
Many firms already offer such perks. About 15% of employers provide some form of emergency childcare support, according to figures from HR body the CIPD.
Investment bank Bank of America Merrill Lynch, for example, has offered 20 days of back-up childcare and 20 days of back-up adult care a year to staff since 2012.
In a sector notorious for its long working hours, with staff often working 12-plus hours a day and on weekends, advertising such perks is one way for banks to try and cultivate a more family-friendly image.
My Family Care - an organisation that works with businesses to provide emergency care solutions - has several big corporate clients including, IBM, Rolls-Royce, Sky, Deloitte, PwC and P&G. It says with the average cost of a day's back-up care costing £95, for most businesses it makes financial sense to cover emergencies because it prevents disruption and helps retain staff.
"Firms are waking up to the message that working parents or carers who drop out of their workforce are as likely to emerge in a more leading-edge competitor firm rather than simply staying home with the kids," says company founder Ben Black.
But in reality, many staff struggling with responsibilities outside work need more than ad-hoc help. There are about nine million working parents and two million working carers in England - representing a third of the workforce, official statistics show.
"As great as emergency backup care is (and I have relied on it several times) it is not the only piece of the puzzle," says a former Goldman Sachs worker of ten years, who left the firm after having children.
The 35 year-old mother-of-two, who now works for a big four accountancy firm, doesn't want to be named. But she says she didn't return to the firm after maternity leave despite it offering a free on-site creche for staff because she needed more flexibility.
"I didn't want to go on the train with the kids," she says. Although the firm offered her flexible working, she was still expected to work a 9-to-5 day. That was shorter than the normal 10-12 hour days other staff worked, but still "fairly rigid".
"Now I can turn up at 10 and no one bats an eyelid, and I can leave anytime from 4.30 on. If I need to I work from home in the evening or stay in the office until 10pm. I have the ability to do both and no one will question it. I've got much more autonomy," she says.
It's a similar story for James. He worked long hours for a private jet firm, but wanted more flexibility after his baby was born. While the official office hours were 9am to 6pm, in reality everyone was in the office until 8.30pm.
"If you didn't do that it was frowned upon. I was struggling," he says. He had been at the firm for four years and was one of its top sellers, so he asked for flexible working and expecting a positive response.
"I tried to talk to them several times, but it was always a blanket 'no' because they said others would want to do it too."
In the end, he quit, and now the 28-year-old works for his father's firm Bloomsbury Estates where he says he's happy to work at home on weekends to catch up from when he leaves early in the week.
Staff like James and the former Goldman worker who leave after children are a huge cost to employers, who then have to find and then retrain a replacement.
Conversely, when firms do step in to help staff automatically feel more loyal. Brenda-Edwina Smale, a senior digital project manager, says her firm was very understanding when her father was diagnosed with cancer. She was allowed to work around his hospital appointments so she could drive him there.
"I was allowed to work around that and put in even more hours than required to show them how much I appreciate this. Thankfully my father is much better now but I'll never forget this kindness that was shown to me," she says.
Government role?
Offering staff more flexibility should be an easy solution. The majority of people (82%) said having more control over their hours would help them to balance work and care, according to a recent survey by Coram Family and Childcare.
The charity's head, Megan Jarvie, says she believes there's a role for government to share positive case studies of flexible working so firms can learn from one another.
"It requires a leap of faith. Circulating positive case studies and providing training for small firms would help," she says.
James says he hasn't looked back.
"The ironic thing is I don't use it [the flexibility] that much. It's just knowing you've got it. I probably work a similar amount of hours, but they're random hours and when I want to," he says.