Fuel prices cut by Asda, Morrisons and Sainsbury's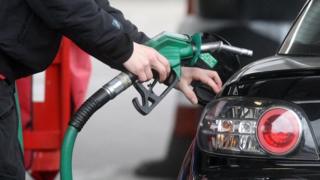 Asda, Morrisons and Sainsbury's have cut the price of petrol and diesel, as wholesale fuel prices continue to fall.
The cuts were led by Asda, which cut the price of petrol by 1p a litre and diesel by 2p a litre. Morrisons and Sainsbury's then matched that move.
It means that Asda is charging £1.19 a litre for petrol and £1.30 a litre for diesel.
Supermarkets have been criticised by motoring groups for not cutting fuel prices faster.
"While this is obviously good news, it's disappointing that it has not come sooner as the wholesale price of petrol has been falling for weeks," said RAC fuel spokesman Simon Williams.
Asda fuel buyer Dave Tyrer said: "Further decreases in the wholesale market mean we are able to reduce our prices again, with Asda's unleaded price dropped by up to 9p per litre since the end of October."
Average fuel prices hit a four-year high in mid October, when the average price of petrol at the pump hit more than £1.31 a litre.
Since then prices have been falling - the most recent average price for petrol was £1.27 a litre and for diesel £1.35 a litre.
There could be further cuts ahead, as crude oil prices, which help to determine the price of fuel, have been falling.
Earlier on Friday, the price of Brent Crude dropped below $60 a barrel for the first time since October 2017, trading as low as $59.44 a barrel.
Prices have sagged following data showing that the global supply of oil, led by US producers, is running ahead of demand.
Members of the oil cartel Opec meet next month and they will be tempted to curb supply to support the price of crude oil.
"We expect that Opec will manage the market in 2019 and assess the probability of an agreement to reduce production at around two-in-three," Morgan Stanley commodities strategists Martijn Rats and Amy Sergeant wrote in a research note.
In that scenario, they said, the price of Brent crude is likely to rise back to about $70 a barrel.