Wall Street sees red as tech shares plunge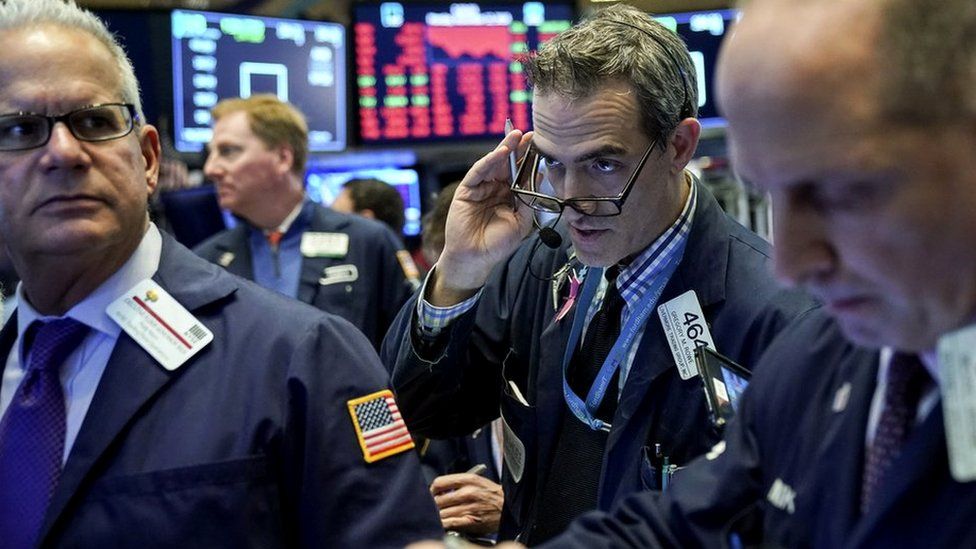 Shares in some of the world's largest technology stocks plunged on Monday, dragging the Nasdaq down by 3% to drive a wider market sell-off.
The Dow Jones Industrial Average closed 1.5% lower while the S&P 500 index ended down 1.6%.
The declines were driven by Apple and Facebook.
Investors dumped stock on fears of a slowdown in iPhone sales as well as continuing tensions over trade between the US and China.
Apple's share price closed down nearly 4%.
The Wall Street Journal reported that lower demand for Apple's new iPhones had impacted on the firms that make the handsets and components after the US company reduced its production orders.
Facebook, which is grappling with continued controversy over its handling of user data and the crisis over Russian election interference, saw its shares fall 5.7%.
Apple shares are now down about 20% from their peak in October, while Facebook shares are hovering at their lowest levels in more than 18 months.
The two companies are part of a cohort of popular technology stocks, which also includes Netflix, Amazon, and Google's parent company, Alphabet, that have helped propel US markets to new records over the last two years.
However, in recent weeks, Wall Street has seen sharp declines.
Investors are rattled by signs of slowing global growth, rising interest rates as well as the billion dollar tit-for-tat tariffs imposed by the US and China on each other's goods.
The US has pressed China to address "unfair" trade practices, such as barriers on foreign companies and intellectual property theft, levying the tariffs as punishment.
Hopes the two sides might reach a compromise dimmed over the weekend, after a major economic summit in Asia ended without a joint agreement.
The two countries are expected to meet again at the end of the month in Argentina.
Apple products, many of which are made in China, have been spared tariffs so far, but are at risk if the US moves forward with additional measures, as threatened.
In addition, tech companies, including Facebook, face rising calls for regulation and tax changes that could hurt growth.