Rolls-Royce boss says May's Brexit deal is better than no deal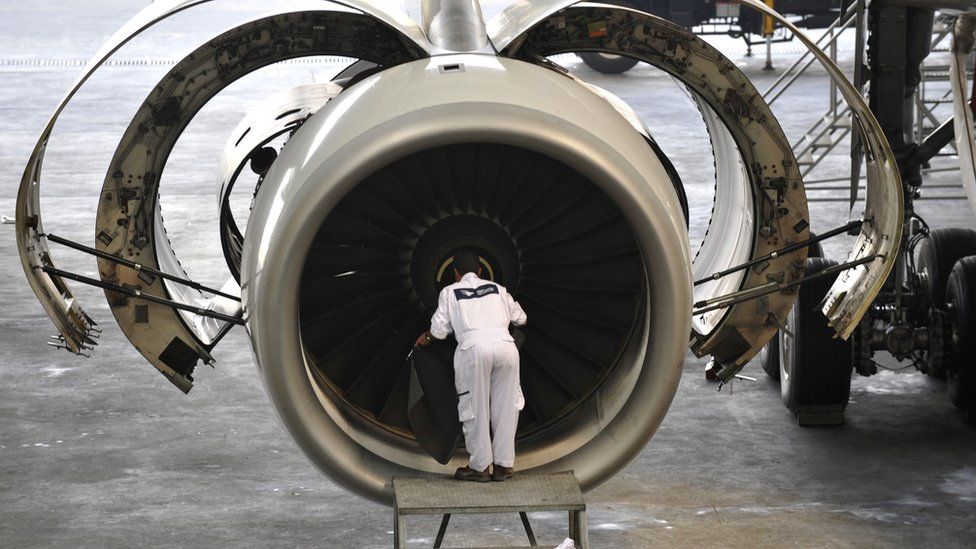 Politicians must get behind a "practical plan" for Brexit, the boss of engineering giant Rolls-Royce has said.
Warren East said time was running out and that any deal was better than leaving the EU without an agreement.
Rolls-Royce employs 22,300 people in the UK making aerospace, marine and submarine engines.
Mr East joined other business leaders in backing the draft plan put forward by Theresa May on Wednesday.
"The time since the referendum seems to have gone remarkably quickly and we're essentially [still] having a discussion we could have had the morning after the referendum," he told BBC Radio 4's Today programme.
"We are slightly running out of time and I would, as a business leader, like to see politicians on both sides of the fence get on and negotiate a practical deal that works for business."
Like many other engineering firms, Rolls-Royce has supply chains that rely on smooth "just-in-time" delivery of thousands of parts from across the Channel.
Earlier this year Mr East called for "as little change as possible" from Brexit to minimise the impact on business. He said the firm would stockpile parts to protect against the risk of a no-deal Brexit that might interrupt the movement of supplies across borders.
He said Rolls-Royce would continue to pursue those contingency plans to ensure it could keep operating after 29 March.
Other business leaders have stepped forward to back Mrs May's draft Brexit plan following a conference call between executives and the Chancellor, Philip Hammond, on Wednesday aimed at rallying support within the business community.
But the pound came under pressure on Thursday as investors worried that Mrs May would not get the backing of parliament and that the stability of her government was at stake after a string of ministerial resignations.
In Friday trading in Asia the pound was slightly higher against the dollar at about $1.28.
Uncertainty around whether the draft deal will pass through parliament, whether the UK will fail to reach a deal at all, or whether further political upheaval will result in a general election, has left executives with no choice but to prepare for a range of scenarios.
BMW welcomed the draft document as a "positive step in the right direction" but also confirmed the carmaker would continue to prepare for "the worst-case scenario, which is what a no-deal Brexit would represent".
Mrs May's proposed deal would mean the UK would maintain roughly the same trading relationship with the EU until at least the end of 2020, while a more permanent arrangement is negotiated. That prospect is attractive to businesses eager to maintain trade without increased friction from border checks or tariffs.
"Most business people ultimately are pragmatists and this is about playing the cards we have been dealt rather than wishing for a better hand," Sir Roger Carr, chairman of BAE Systems, told the BBC.
However, Justin King, the former Sainsbury's chief executive who is now vice-chairman of private equity firm Terra Firma, argued it was not necessarily a binary decision.
"We've been presented with an entirely false choice: it's not a choice between this deal or no deal and crashing out of Europe. There's plenty of choice," he told Today.
"Business people are pragmatists, but they're also not fatalists. I think when you see that something is not going to be a good outcome, then you have to keep fighting for an alternative."
Meanwhile, the head of the Co-Operative Group has warned that availability of fresh food from both the UK and abroad could be hit by a no-deal Brexit.
Steve Murrells told BBC Radio 5 live that stockpiling was not an option as "there is not enough chilled capacity to do it".
The group, which also supplies chains such as Costcutter, would consider air freight or changing ports to to "keep the supply chain going as best as we can".
Mr Murrells also feared a lack of workers could affect supplies: "Farming relies on migrant labour and if the wrong outcome prevails there is going to be a real shortage of people to pick the crops."