Asda revival continues as sales rise again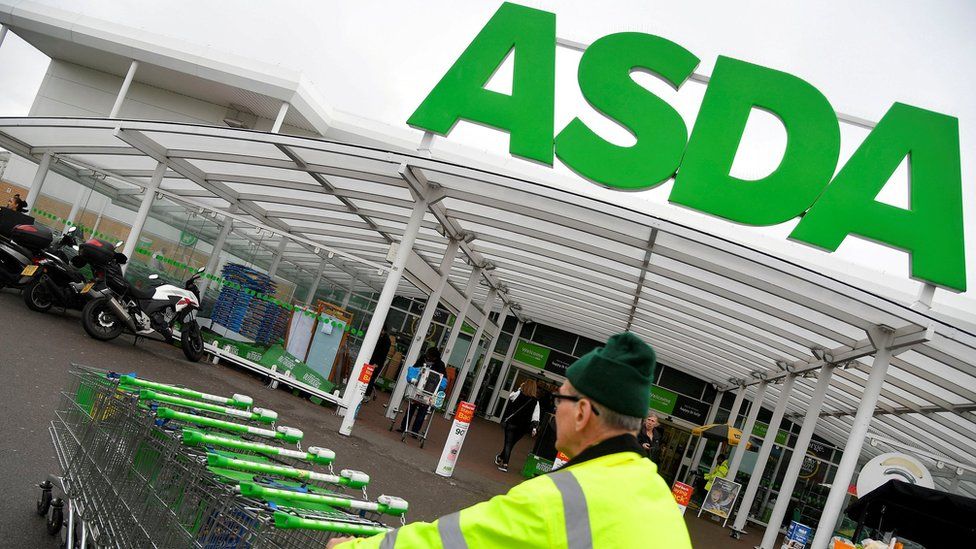 Asda's sales jumped 2% in the three months to September as the recovery of the Walmart-owned supermarket continued.
The result marked the sixth consecutive quarter of rising like-for-like sales, which strip out the effect of new stores.
The retailer attributed the rise to the strength of its own-label brands.
Asda has a 15.3% share of the UK grocery market, just short of Sainsbury's on 15.8%.
The two supermarkets plan a merger that will form the country's biggest chain, if the competition watchdog approves the deal.
The Competition and Markets Authority is currently considering whether the deal will mean less consumer choice, higher prices or poorer service.
The combined group would have 2,800 stores and 31.4% of the grocery market, but it may have to sell some stores to get the deal through.
Between 73 and 300 supermarkets will need to be sold, according to industry estimates.
That could lower the number of disposals "Sasda" is forced to make.
In their own submission to the CMA, Sainsbury's and Asda said the two German chains "have had the most profound impact" on the UK grocery market over the past decade.
A merger would allow Argos concessions to be put into Asda stores - a move that shoppers would welcome, according to Kantar.
Chris Hayward, a consumer specialist at the market research firm, said: "Consumers want convenience and to have to visit as few outlets as possible, which is why Asda's shoppers have identified a need for more DIY, homecare, electricals, homewares and toys in its stores.
"That's not necessarily possible for Asda on its own, but as a one-stop-shop an Asda-Argos tie-up would play to the needs of Asda's core family-oriented, time-poor demographic and could boost footfall at their larger out-of-town outlets."