House of Fraser to shut another four stores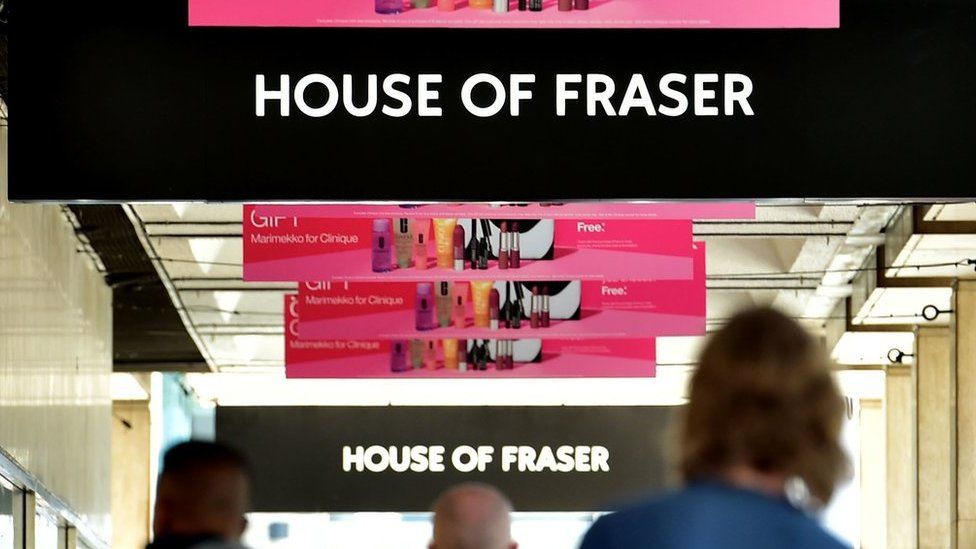 House of Fraser (HoF) is closing four more stores, all based in major shopping centres.
The department store chain, bought out of administration in August by Mike Ashley's Sports Direct, will shut its Lakeside, Metrocentre, Norwich and Nottingham outlets in the New Year.
Mr Ashley said the landlord, Intu Properties, had been unwilling to reduce rents for the ailing shops.
He added that there had been "multiple meetings with Intu".
"We were no further forward after 14 weeks. Unfortunately, these stores now face closing in the New Year. I urge other institutional landlords to be more proactive to help save the HoF stores in their schemes," he said.
Intu confirmed it had been unable to reach an agreement with Mr Ashley.
"House of Fraser stores in our portfolio will be closing in early 2019, representing around 1% of our secured rent and 526,000 sq ft of retail space.
"We are enthusiastic about the opportunity to re-engineer and re-let this underperforming space to new and exciting alternatives."
After buying House of Fraser in August, Mr Ashley said he was hopeful that most of the department store chain's 59 sites would remain open.
He has so far done deals to save at least 20 stores, safeguarding about 3,500 jobs, but at least eight are closing.
The entrepreneur, who also owns Newcastle United football club, has blamed "greedy landlords" for the closures.
But the British Property Federation, which represents landlords, hit back in September, calling the negotiations a "two-party process".
"One party simply can't cry 'unfair' in the media when it doesn't get what it wants," boss Melanie Leech said at the time.
Shoppers who use the Norwich store echoed disappointment about the closures elsewhere.
Another said: "It's terrible - our friend works there and she thought it would be OK, so it's quite a blow."
Liz Twist, Labour MP for Blaydon, said the closure of the Metrocentre store was "really bad news".
She told the BBC: "The retail sector is a hugely important part of the employment scene in my constituency, about 24% of the jobs.
"I will be in touch with both Intu and Mike Ashley. And I will be asking questions in the House."
'Harrods of the High Street'
Sports Direct paid £90m for House of Fraser, just hours after it went into administration in August.
The company bought all the stores, including the 31 that had been earmarked for closure under a previous restructuring plan that has now been abandoned.
Mr Ashley has said he wants to turn the department store chain into the "Harrods of the High Street" with personal shopping services.
Like other retailers, HoF has been struggling as more people shop online rather than on the High Street.
Analysts also believe the chain had become too large and had been poorly managed.