Spotify launches streaming service in the Middle East
By Paul Blake
Middle East Business Reporter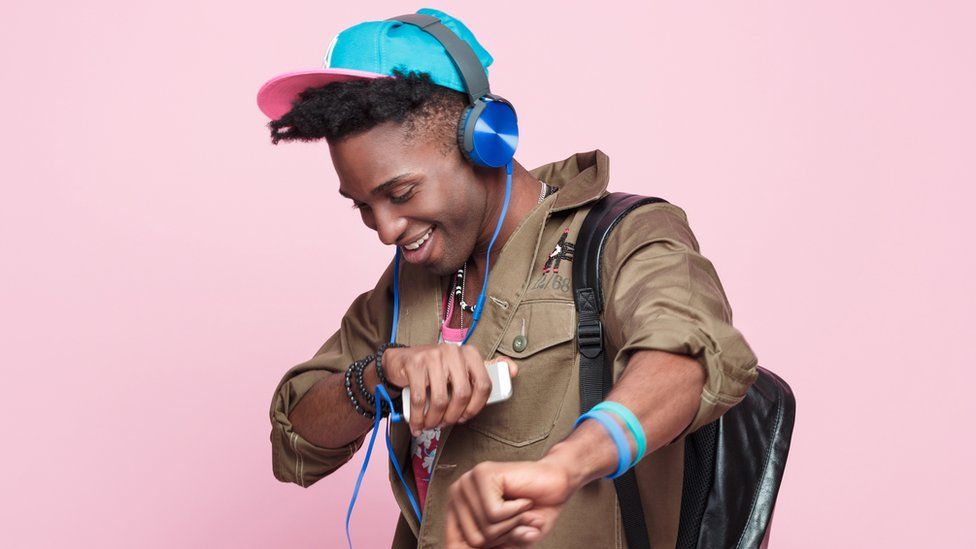 Music streaming powerhouse Spotify has launched its service across the Middle East, hoping to tap into millions of digitally-connected consumers.
Rumours about the service's launch had been circulating for months.
Spotify will face stiff competition from rivals already in operation.
Executives from the company hope the service's launch could cut down on music piracy in the Middle East, but would not comment on how many new users they expect to enlist.
The service is already popular in the region with users who have accounts connected to other countries where it is already available.
Abdallah Atlaee, 26, a project manager in the Abu Dhabi aviation industry said: "I have already been using it for a long time with gift cards, so finally now I will be able to renew without gift cards."
Listeners in the United Arab Emirates, Qatar, Morocco, Algeria, Egypt, Tunisia, Lebanon, Jordan, Oman, Saudi Arabia, Bahrain, Kuwait and the Palestine territories will now be able to subscribe to Spotify's free, as well as paid premium services. Spotify became available in Israel in May.
"The Middle East represents what we believe is an untapped opportunity," Claudius Boller, managing director for Spotify in the Middle East and North Africa, told the BBC.
"It's also the second youngest population in the world, and now with the latest stats and figures that we have about the smartphone penetration - internet penetration - we see that right now is the right time to launch Spotify and make it available in that region."
While the launch means new customers in the Middle East, it could also mean more negotiating power for the company around the world.
"From a business perspective it is important for Spotify to continue to grow its subscriber base at a healthy clip as it obviously grows their revenue and ultimate profits but also gives them scale and more leverage over the music royalty owners when they renegotiate new deals," Jeff Wlodarczak, an analyst who covers the music streaming company for Pivotal Research Group, told the BBC.
So why wasn't Spotify available in the region before?
In each region, Spotify has to secure the rights to stream music to customers, as well as figure out how to monetise their business in new markets - namely finding advertisers willing to pay to be on their platform.
"The gating factor in new markets (outside of China) tends to be the need to secure the music licenses from music royalty players and the need for on the ground advertising infrastructure for their free ad supported product," Mr Wlodarczak said.
Listeners in the region will have access to Spotify's complete library, just as users in markets such as the UK and US have, Mr Boller said.
Additionally, the company will offer unique content for the Arab world, as it has done in other regions around the world, Michael Krause, Managing Director for Spotify in Europe, Middle and Africa, told the BBC in Dubai. That content will be made available to users around the world.
The company will offer playlists currated for the Arab world, and listeners globally.
"So they will be even more accessible, and more easily accessible to also Arab diaspora or other customers who are interested in their music outside of the region, and maybe the next Despacito or other global hit might come from the Arab region - which would be quite exciting," Mr Krause said.
Is this the first music-streaming service to launch in the Middle East?
Hardly, in some ways it's late to the party.
Asked about this, Mr Boller said, that the company spends a lot of time researching both the infrastructure, but also local customs and culture ahead of any regional launch - allowing them to offer curated content for localised markets.
But, now that Spotify is launching across the Middle East, it will compete directly with regional and international power players who already have a foothold in the area.
Spotify's chief rival Apple Music already operates in the region and is available to consumers in a number of countries across the region, according to their website. But with its launch this week, it will gain a leg up on YouTube Music Premium, a younger music streaming service that is not available in the Middle East.
Meanwhile, it will face competition from France-based Deezer, which launched in the region in October. The service counts 14 million monthly active users globally in more than 180 countries.
Reuters reported in August that Deezer had signed an "exclusive, long-term agreement" with Rotana Records - a major Arab record company.
Asked about whether this deal would make Spotify's existence in the Middle East difficult, Mr Boller said: "We are trying to build out the catalogue. Right now, to be honest, we don't think it's a negative [disadvantage] for us because use there are so many young, fresh blood."
Additionally, local players, such as the Lebanon-based Anghami, which has been operating in the region since 2012, could prove to be stiff competition.
Asked if he would sign up for the service, Sameh Darwish, 24, an architect from Damascus visiting Dubai, said, "I don't think so... I'm not even sure what it is, but I have my own music apps that I'm used to."
Other potential customers were more excited.
"I think I'll use it. It will probably gain popularity too, but it has competition," Youssef Rishmawy, 26, a doctor in the Sharja emirate of the UAE, said. "Most people here use Anghami, which offers Arabic music too."
Is launching in the Middle East a game changer for Spotify?
"The Middle East has nearly 400 million inhabitants, unlimited music streaming is an increasingly popular way of consuming music and I assume there is likely a pretty healthy amount of demand for Spotify in that area of the world," said Mr Wlodarczak.
Mr Wlodarczak added: "While the Middle East is nice for Spotify the market that will really move the needle for them is India."
So why then is the Middle East important?
The Middle East represents tremendous growth potential for technology companies - especially those in the streaming content business.
According to a 2017 report from GSMA, a mobile operator industry trade group, "smartphone adoption continues to rise in the region (just under half of total connections were smartphones by mid-2017) and as more users come online, an increasing range of mobile services are being consumed, including video, social media, e-commerce and financial services."
The group predicts that connections of mobile broadband will increase from 50% to 69% between 2016 and 2020.
Those mobile broadband connections, mean new users that streamers like Spotify can market to.
Will it be easy to get a foothold in the Middle East?
The region will present its challenges too - namely significant variation in who is connected to the mobile internet.
As GSMA points out, some 90% of the population of countries like Bahrain, Kuwait and the UAE are mobile subscribers - making those countries "among the most penetrated mobile countries in the world". But poorer Arab states like Somalia, Comoros and Djibouti have mobile subscription rates below one-third of the population.
To combat some of the technical challenges that the region presents, Spotify is planning to stream it's content at a lower bitrate - allowing users on slower networks to access their service.
What could it mean for music piracy?
Music and other entertainment piracy is rife across the Middle East.
Mr Krause, the Spotify executive, said he hoped that Spotify's free service could cut down on illegal content sharing.
He pointed to Latin America, where he claimed Spotify helped cut down on piracy and boosted the local music industry.