Daily Mail-owner DMGT 'looking to buy i newspaper'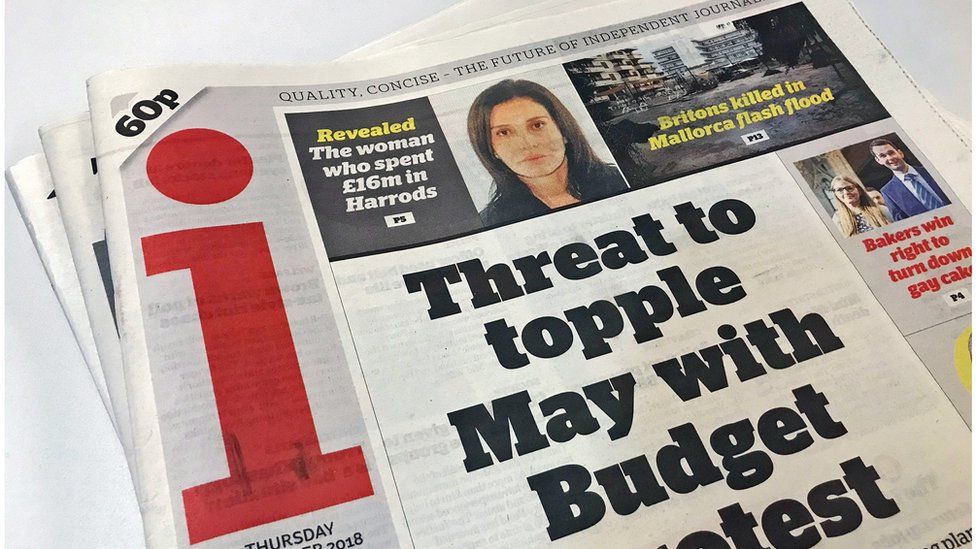 Daily Mail-owner DMGT is reportedly considering making an offer to buy the i newspaper from Johnston Press.
The troubled regional publisher put itself up for sale in October, with all or parts of the group available to buy.
It is struggling under the weight of debt, pension obligations and worsening advertising conditions.
Johnston Press, which bought the i from the Independent for £24m in 2016, has not commented on the developments, first reported by Sky.
However, the publisher, which also owns the Scotsman and Yorkshire Post, said its sales process - launched on 11 October - was ongoing.
A decline in traditional and digital advertising revenues has seen the value of the company's newspaper titles fall.
It is one of the largest local and regional newspaper organisations in the UK, but has a £220m bond which is due for repayment in June next year.
The i was first launched in 2012 and sells for 60p on weekdays and £1 on Saturdays.
It is seen as the jewel in the crown of Johnston Press's stable of 200 regional papers, which covers locations from Scotland and Northern Ireland to the south of England.
Johnston Press was founded in Falkirk in 1767, and listed on the London Stock Exchange in 1988, growing through acquisitions.
In its latest results, Johnston Press reported a 10% fall in revenues during the first half of 2018. It swung back to a profit of £6.2m for the six-month period, but this was mainly due to a one-off accounting gain of £8.8m.
In September the i recorded a year-on-year circulation drop of 9% to 242,408 copies.