'Admitting problems helped us get debt-free'
By Kevin Peachey
Personal finance reporter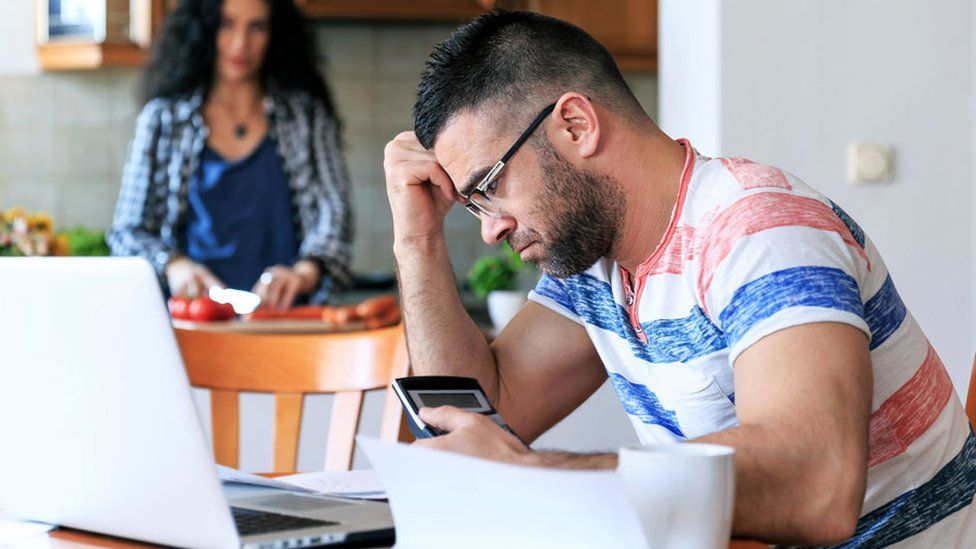 Some families are racking up debts with more than 20 creditors, then waiting for more than two years to seek help, new research has found.
Analysis of callers to the National Debtline found that 43% said they had not sought help earlier as they were too stressed about their debts.
Those in the red risk worsening their financial situation by failing to organise repayment plans early on.
The report coincides with the Talk Money Week awareness campaign.
Naomi Willis and her husband Ricky had debts with at least 30 different organisations and lenders, ranging from catalogue companies to payday loans.
While the money owed to each varied, the total reached £40,000 at its peak, and yet they rarely talked about it.
"We had been really stupid. It was totally our fault," Mrs Willis, 34, said.
"Things happened, like the fridge-freezer breaking down when we were already in debt, but we just tried to lead the same lifestyle. We were not being realistic about our budget," she said.
"We wouldn't talk about it and just thought the problem would go away."
Eventually, they did open up, admitted they had a problem and sought help,
Ruling out the option of bankruptcy, the couple contacted every creditor and worked out a repayment plan. After three-and-a-half years they were debt-free.
"Now everything we do is for our three children," said Mrs Willis, who works with her husband on a financial blog.
"You can self-diagnose yourself on the internet for ages, but eventually you have to do something about it."
The analysis, by National Debtline and Experian, suggested that stress and other mental health issues were important reasons why people failed to seek the advice of free and impartial debt charities.
A similar proportion said that they felt too ashamed or embarrassed to ask for help.
The analysis suggested that people were finding themselves in financial trouble by simply taking out too much in credit, then having difficulty paying it back, with a similar proportion finding they were unable to manage their borrowing after job losses or ill health.
The National Debtline said it is seeing more tenants with debt problems and more people getting behind on utility and council tax bills.
It is lobbying for a wide-range of borrowing to be considered in the government's new "breathing space" proposals. This will allow people with problem debt some time to organise their finances and repayments without fearing the debt continuing to spiral.
A similar scheme is already in operation in Scotland.
Various organisations are supporting the Talk Money Week awareness campaign, urging people not to see finances as a taboo subject. Talk Debt which is coinciding with the campaign, is a bid to try to cut the length of time is takes for people to seek help.
The government-backed Money Advice Service has suggested that many people are hiding credit card spending from their partners, while StepChange debt charity said that there were knock-on effects on unmanageable debt on health, housing, and well-being.
Peter Tutton, head of policy at StepChange, said: "We already know the huge sense of relief that people feel when they successfully become free of problem debt, often after years of hard slog to achieve that result. But what is exciting to find is that, for four out of five people, worthwhile benefits are felt just three months after taking debt advice."
The finance industry has also accepted it can do more to prevent people getting into financial hardship.
"Sometimes it can be difficult to talk about money even with close family and friends, let alone a qualified professional," said Maike Currie, investment director for Fidelity International.
"Most adults are not financial experts and may only know the basics about money management so jargon-free, easily accessible guidance needs to be provided by the industry."