'Most of us hate haggling for a new car'
By Will Smale
Business reporter, BBC News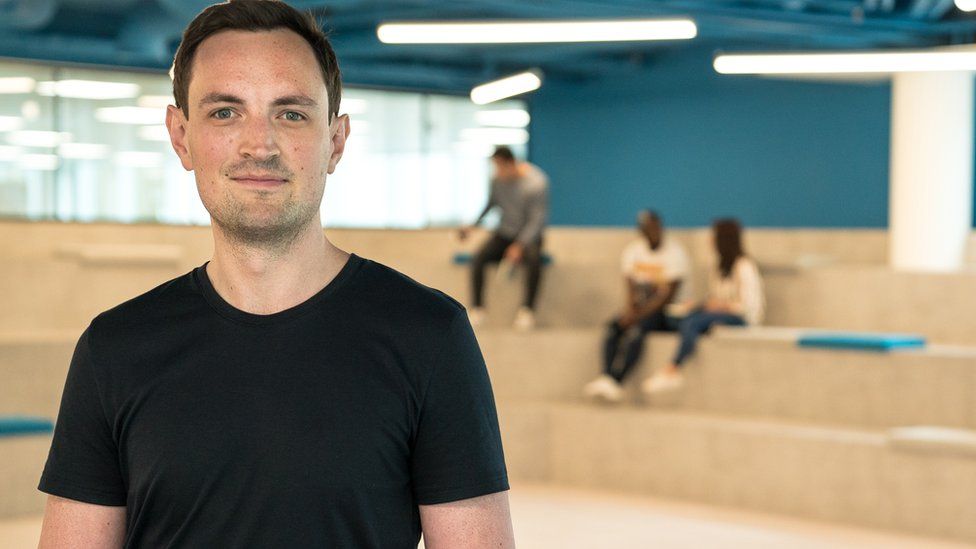 The BBC's weekly The Boss series profiles different business leaders from around the world. This week we speak to James Hind, founder of UK car price comparison website Carwow.
While unforeseen circumstances can completely change all our lives, it was the global financial crisis that sent James Hind down an entirely different path.
In 2008 he was a 21-year-old intern working at a UK investment fund when the world of finance was hit by turmoil.
"I watched the industry collapse, it was just chaos," he says.
"I suddenly realised that people in the financial world didn't have any control, they were just riding a wave. Watching that I realised it wasn't for me."
So having previously planned to have a long career in finance, James walked away.
Not immediately knowing what else to do with his life, he remembered that he had once been given the job advice that you should "do what you love".
As a big fan of cars, he decided to launch a website that collated car reviews, and then try to sell advertising on the pages.
Today the business is London-based price comparison website Carwow, and in 2017 it had an annual turnover of £15m.
Not bad for a company that the Nottingham University graduate started in the loft of his parents' home on the Wirral peninsula in the north west of England, and one that initially found it impossible to secure any funding.
After first going travelling for a year, James launched the initial iteration of Carwow in 2010, when it was called Carbuzz.
With his girlfriend Alexandra Margolis on board as co-founder, she designed the website while he set about adding all the content.
Over the next few years advertising revenues trickled in, before James realised that the operation could both be more useful to customers, and far more lucrative, if it changed its business model.
So he reinvented the website into one where users could search for the best price for a new car.
Mirroring the price comparison websites that have particularly changed the insurance industry, his idea was that people could enter the exact details of the make and model of car they wanted, not just the colour and engine-size, but the precise combination of optional extras.
A list of prices offered by dealers across the UK would then be displayed on the screen.
"I realised that many people hated buying a car, they went into it expecting to have a bad time," says James, now 31.
"And a big reason for this was because most of us hate haggling, and buying a new car has always been a very rare example of a time when you were expected to have to do this.
"My idea was to completely remove the need for people to haggle."
Bringing a technology savvy friend called David Santoro on board to build the new website, the new version of the company was launched in 2012.
But while a number of car dealers across the UK were happy to give it a go, potential investors most certainly were not.
"In the early days we massively struggled to secure funding," says James.
"We contacted virtually every venture capital fund in London, and all either said no, or just ignored us.
"And I can understand why. We were young entrepreneurs with no track record, and we had very little proof at the time that the business was going to work."
It took a year and a half of "cold emailing" potential investors before the company got its first investment.
The name change from Carbuzz to Carwow happened in 2014 because, ambitious for global growth in the future, James discovered that the Carbuzz brand had already been taken in other countries.
Carwow has grown steadily since then, thanks to word of mouth and a popular YouTube channel where employees review cars. James says that the videos get 17 million views every month.
Last year the company made 55,000 sales via its website, accounting for 5% of private new car sales in the UK. It also now operates in Germany and France.
More than 2,000 dealers across the UK pay an undisclosed fee to be listed on the site. James says that they all pay the same amount, whether they are selling luxury cars or budget vehicles. He says this level approach is vital because it means that Carwow is "completely agnostic about what car people buy".
Meanwhile, total investment in the business has now reached £45m. This means that James, who is chief executive, no longer has a majority stake, something he says he is fine with.
"You can either take no investment and never grow, or secure it and really gain traction."
Alexandra, 31, who is now James' fiancée and holds the creative director job title, also has shares in the business, as does David Santoro, 34, who is the chief technical officer.
Motoring journalist Robin Roberts says that the likes of Carwow, and its rivals such as Coast2Coast Cars, are a welcome addition to the marketplace because they help to "relieve the hassle" of buying a new car.
"I don't know anyone who actually enjoys the process of buying a car after the initial thrill of viewing one or test-driving a model," he says.
"So turning the tables and having dealers competing for your business has to be welcomed."
While James admits that he may one day decide to sell up, he says that is a very long way off.
"We feel that we have barely got started at Carwow, we have barely touched the surface. There is huge opportunity to grow the business."
Related Internet Links
The BBC is not responsible for the content of external sites.