Duke of York: Keep 'engaging' with Saudis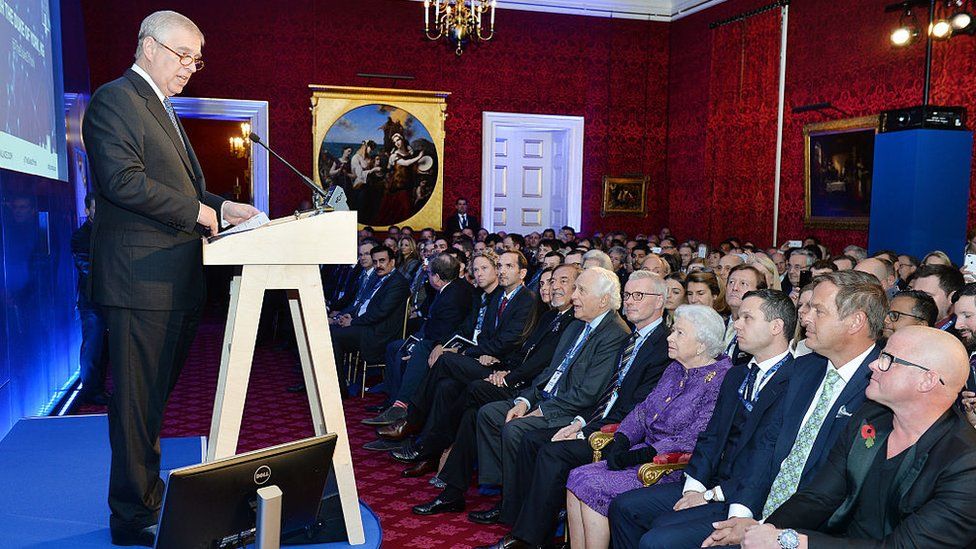 The Duke of York has said his initiative to support entrepreneurs should continue "engaging" with Saudi Arabia, despite the killing last month of journalist Jamal Khashoggi.
Khashoggi, a critic of Saudi rulers, was killed inside the country's consulate in Istanbul on 2 October.
The Duke said the journalist's death was an "awful state of affairs".
But he added Pitch@Palace should not stop "encouraging and supporting, starting and growing businesses".
He told the BBC young Saudis should not "take the blame for something that they had nothing to do with".
Prince Andrew was talking to Radio 4's Today programme ahead of the latest round of his Pitch@Palace initiative.
The not-for-profit organisation, which he established in 2014, gives budding entrepreneurs the chance to "pitch" to an audience of professionals who could become their mentors, distributors or investors and help them to expand their businesses.
The events take place twice a year and Thursday's will see 42 entrepreneurs from around the UK coming together at Buckingham Palace to pitch to a room full of top investors and other businesspeople.
Pitch@Palace Global holds similar events for entrepreneurs in various countries around the world, including Saudi Arabia.
"It's sometimes considered quite a difficult market to enter but they were the first country to ask us to take Pitch outside the UK, and we went in 2015 and it was a great success," the Duke told business presenter, Dominic O'Connell.
The Duke said Khashoggi's killing last month was an "absolutely awful state of affairs and how and what and why is beyond my knowledge and ability to answer".
However, he added: "Do I think that we should be engaging with Saudi Arabia?
"From a Pitch perspective and Pitch alone, I do not believe that we should stop for one moment encouraging and supporting starting and growing businesses.
"They need to diversify their economy, they've got a very young population that is growing and needing things to do and so if we are just one of a whole range of activities that are going on, then I think that they shouldn't necessarily take the blame for something that they had nothing to do with."
Saudi Arabia admits Mr Khashoggi was killed inside its consulate in Istanbul last month, but its accounts of what happened have changed several times.
When he first disappeared, it said Khashoggi had walked out of the building alive. It later admitted he had been murdered, saying the killing was premeditated and a result of a "rogue operation".
Turkish investigators believe he was choked to death and then dismembered.
His death prompted many western top executives and politicians, including the UK's international trade secretary Liam Fox, to pull out of a Saudi summit aimed at attracting investment to the Kingdom.
Reacting to the Duke's interview with the BBC, Amnesty International said it hoped he was "re-appraising his entire relationship with Saudi Arabia".
Peter Frankental, the organisation's UK economic relations programme director, said no-one could be "under any illusions about Saudi Arabia's appalling human rights record".
"All business figures need to be aware that their dealings with Saudi Arabia may taint them with human rights violations, especially if they receive investments that arise from such violations."
The Duke of York was the UK's "special representative" for trade and investment from 2001 until he stepped down in 2011.
As UK trade envoy his remit was to promote UK business interests abroad.
He was asked why he chose to stand down from that role: "The decision here at Buckingham Palace was that every member of the family should be helping in the trade relationship[s] around the world.
"I still do support the UK in every way that I did previously but we all do it now and we do it in a slightly different way," he said.