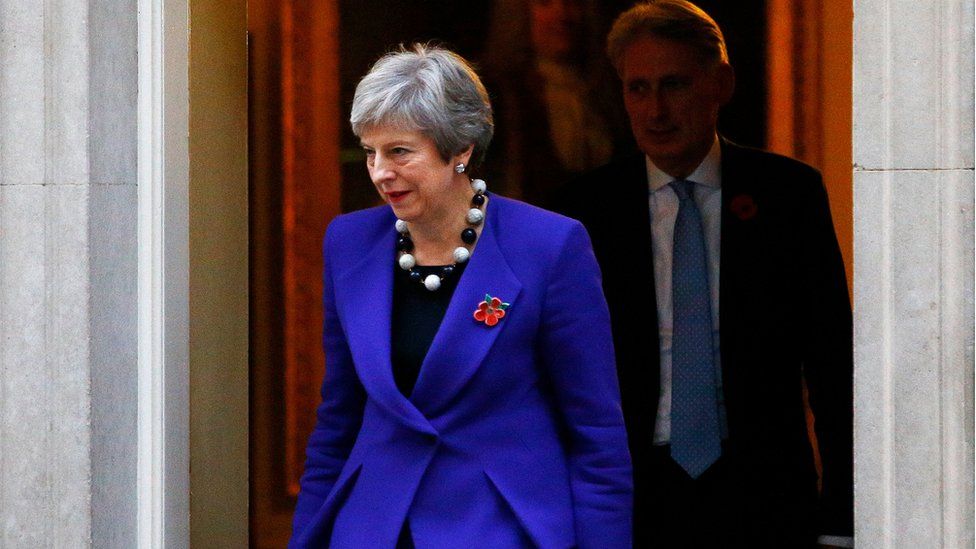 The government's overtures to business are rapidly becoming a symphony.
After two years of feeling they were "outside the tent" when it came to Brexit strategy and policy, Theresa May is welcoming as many business big hitters back inside as she can.
It's quite a change from 2016.
One of first things Theresa May did when taking over from David Cameron was to disband his business council. The new prime minister and her advisers had watched voters, disillusioned with big business, ignore the Brexit warnings from industry and assessed that being seen as close to them was a political mistake.
Fast forward to today's announcement that she is founding no fewer than FIVE new business councils to give "regular, high level advice and policy recommendations".
This who's who of business leaders includes Dave Lewis from Tesco, Roger Carr from BAE Systems, Carolyn McCall from ITV and Emma Walmsley from GSK.
The formation of these councils follows a special audience with the prime minister and the Chancellor of the Exchequer Philip Hammond at the Guildhall in London last week and a dial in for 150 chief executives with Theresa May the week before.
Having been told they are "not on the list" they are now being treated like VIPs.
Given the fact they employ millions of people and have a practical understanding of the challenges presented by Brexit they probably satisfy the definition of Very Important People at this crucial juncture.
Her new recruits have all made positive noises but it would be a mistake to infer that everyone in the business community now agrees with the prime minister's assertion in the press release that: "Brexit presents a huge opportunity to build a better, stronger economy for people all over the country."
Many of them privately - and quite a lot of them of them publicly - have said that Brexit in any form presents a real threat to the economy and people's prosperity.
In fact, another 70 leading business and industry figures including the former chairman of Marks and Spencer Lord Myners, founder of Last Minute.com, Martha Lane Fox, former Sainsbury's boss Justin King and former chairman of BT Sir Mike Rake signed a joint letter published in the Sunday Times calling for a People's Vote on Brexit, warning that the Government's Brexit plan is not as good as the current deal Britain has inside the European Union.
You'd be forgiven for thinking that this sounds so 2016 - it does.
Labelled project fear, it was ignored then, so why should anyone listen to this lot now.
Plus, if the prime minister's new best friends on these advisory councils aren't truly convinced the UK is on the right track - why are they giving the impression they think it is?
Ultimately, both groups' primary goal is to avert a no-deal scenario - something that almost all of them view as profoundly damaging to business, the economy and living standards.
Members of the new business councils have accepted Brexit is going to happen and want to help the prime minister get her deal, or a version close to it, over the line.
They are concerned that members of her own party hate it so much ("A stinker," says Boris Johnson) that it may fail to get through Parliament leaving the UK looking down the barrel of a very disruptive Brexit.
The Business for a People's Vote crowd fear the same parliamentary deadlock but further suggest another referendum is the best way to unlock a problem Parliament can't solve.
The survey data they are publishing on Thursday is expected to show that a small majority of business leaders would back another vote.
The prime minister has ruled this out many times so it seems that her new advisers have taken the more pragmatic approach advocated by songwriter Stephen Stills. If you can't be with the one you love... love the one you're with.