Flexible office space demand 'to soar over five years'
By Simon Jack
Business editor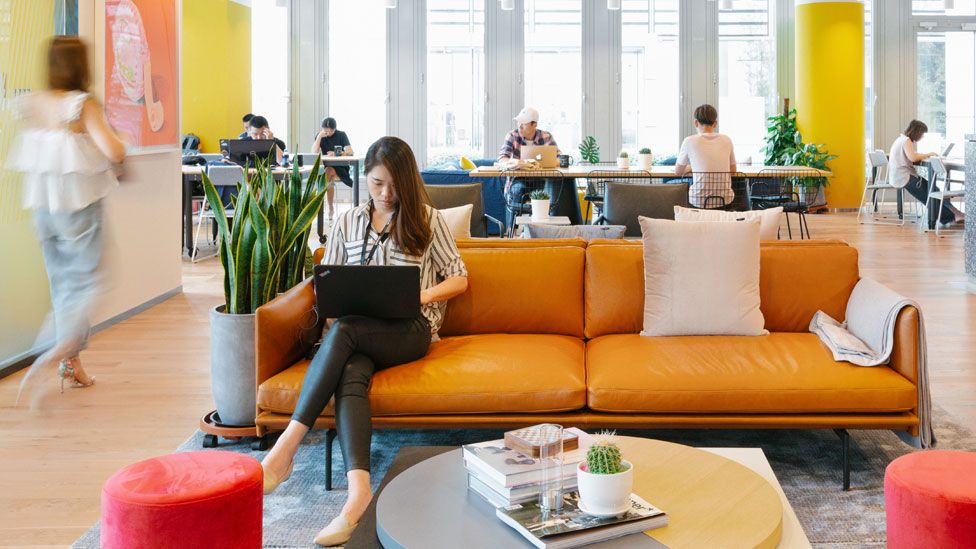 Flexible working spaces are set to grow by up to 30% annually for the next five years across Europe, according to property firm Jones Lang Lasalle (JLL).
And it says that will change the way thousands of businesses of all sizes organise their work force.
JLL described it as one of the biggest shifts in the property industry.
Firms like WeWork and IWG offer office space and services, allowing clients to shrink or grow their number of desks, or the period they need them for.
Founded in the US in 2010, WeWork is already London and New York's largest private office occupier.
'Reshaping business models'
So far this year, flexible workspace operators have taken up one sixth of all new commercial property in the UK capital and last year their footprint outside the capital tripled with Manchester and Birmingham seeing the fastest growth.
Initially popular with small start-up companies, these facilities are increasingly being used by large multi-national organisations who need to expand or reduce their workforce in line with the volume of work they have.
Dan Brown of JLL says: "The consumerisation of real estate is reshaping business models."
The rapid growth in this "office on demand" business has seen the value of WeWork balloon to $20bn and is not without risk.
One technology investor warned that it was beginning to look like "a bubble".
Some property investors have pointed out that when any company buys up a huge amount of the stock of office space in the hope of selling it on in bits and pieces, there is a risk you can be left with a lot of empty offices if the economy takes a turn for the worse.
WeWork has borrowed heavily to finance its expansion and the ratings agencies have given it a "junk" or risky credit score.
However, the flexibility of this new model is proving popular with small employers and workers who enjoy the modern collaborative feel of a shared office, as well as larger employers who are not forced to sign long leases on expensive, bespoke, trophy buildings.
Perks such as free beer for tenants of WeWork offices in New York proved so popular that the company was forced to impose a four pint limit per person after reports of inappropriate behaviour.
Four pints is still enough to create a feel good mood about one of the biggest disruptions for decades in the way we think about heading to "the office".