Wall Street ends higher in rebound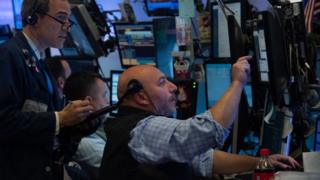 Shares on Wall Street have closed higher, rebounding after a bruising trading session on Wednesday.
Strong corporate results, including from tech firms Microsoft and Twitter, helped bolster the US exchanges.
The Dow Jones ended up 1.6%, the S&P 500 added almost 1.9% and the Nasdaq climbed almost 3%.
The gains followed steadier trading earlier on European markets, which calmed investors after declines in Asia.
London's benchmark FTSE 100 closed 0.6% higher, while the broader FTSE 250 added 0.7%.
Frankfurt's Dax and the Paris Cac both fared even better, adding 1% and 1.6% respectively.
Earlier, Tokyo stocks had slumped more than 3%.
Investors have been rattled by the outlook for corporate profits amid signs that global growth, particularly in China, is slowing.
Companies in the US are also reporting increased costs due to labour shortages and trade tariffs.
Wednesday's losses had pushed the US Dow Jones Industrial Average and the S&P 500 below their starting point at the beginning of the year.
However, Thursday saw the exchanges regain some ground.
Microsoft enjoyed some of the strongest gains on the Dow, adding more than 5.8% after its quarterly results pleased investors.
Twitter shares jumped more than 15% after it reported better than expected sales and profits.
October tends to be the most volatile month for the US stock market, but the sharp swings mark a change from the steady upward march the exchanges enjoyed last year.