Labour's John McDonnell pledges more than £49bn to end austerity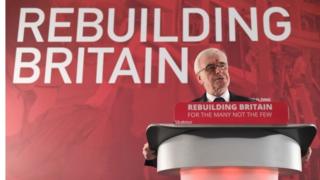 Labour is planning to go further than its manifesto pledge last year of £49bn of extra spending to end austerity.
Shadow chancellor John McDonnell told the BBC that although the 2017 general election promise would go "quite a significant way" to tackling a long period of cuts, he wanted to do more.
Labour had pledged an extra £49bn by 2022, with £5bn set for healthcare.
Since then, the prime minister has promised an extra £20bn for the NHS in England by 2023.
Mr McDonnell said he would match that and put Labour's own proposals "on top of that".
He said he wanted to see healthcare spending increasing between 4% and 5% a year, close to the historical average and well above the 1.3% annual increases between 2009 and 2016.
Mr McDonnell also said he would not ditch any of Labour's other commitments to spend more on schools, the benefits system and introducing a "real living wage" of £10 an hour by 2020.
Sceptics
"I put forward a programme of about £49bn paid for by increased taxes on the top 5% of earners, by reversing some of the corporation tax cuts and some of the tax cuts to the rich as well, inheritance tax etc, and also tackle tax evasion and tax avoidance," Mr McDonnell said.
"That would go some way, quite a significant way, to tackling a lot of the austerity measures that the government has introduced, the NHS in particular.
"It's not enough [on health], we'll put our proposal on top of that, in that way the NHS will get what it needs.
"That's the way forward, but it has to be on the basis, of a fair taxation system, but then also investment and growing our economy."
I asked him if he understood that some people might be sceptical that Labour could raise large amounts by taxing higher earners and reversing business tax cuts.
The Institute for Fiscal Studies, for example, has pointed out that higher earners already pay more than 40% of all income tax collected.
Hollow ring
"That's why in all the proposals I've put forward - [to tackle] this argument by the IFS and others who have said actually you might increase the taxes but some people won't pay it - I put quite a buffer on that," Mr McDonnell said.
"I've put a £4bn buffer in there, to make sure that if there was any slippage, we'd have that to fall back on. So it was a very considered amount."
Mr McDonnell was speaking to me following a major speech in which he said that Theresa May's promise that "austerity is over" rang hollow.
He said that for him, austerity being "over" would a lot more than some extra spending.
"[It would mean people] not getting begging letters from their head teacher to fund things at schools, or not seeing cuts in their school staff, the teaching assistants that have gone; not struggling to get an appointment with their doctor or the long queues at the hospital that they've got at the moment, for even those with cancer treatment."