Plastic recycling firms accused of abusing market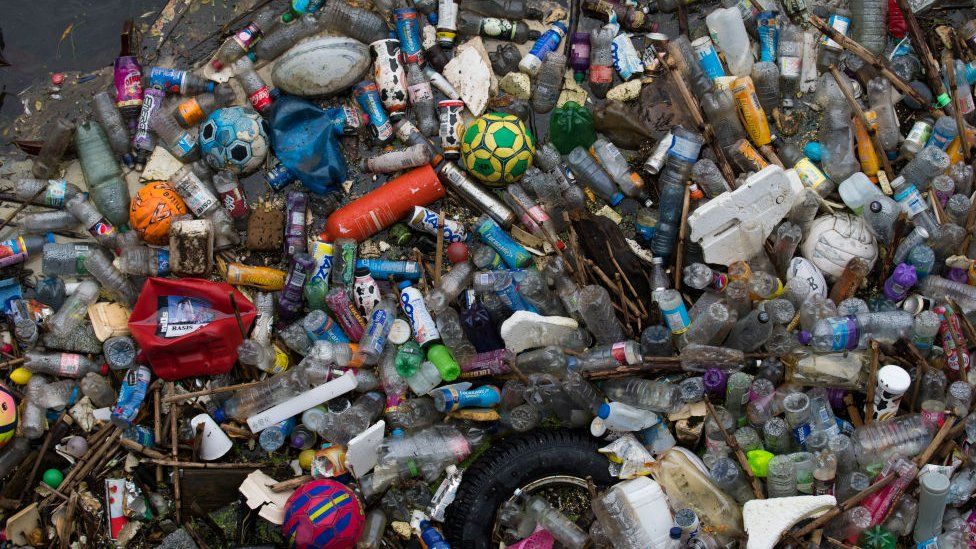 The plastics recycling industry faces an investigation amid reports firms are illegally profiting from the market and in some cases polluting rivers.
The Environment Agency, the regulator, confirmed it had set up an investigative team and was pursuing "several lines of enquiry".
It comes as councils cut back their plastics recycling services amid a fall in demand for exports to China.
Importers are said to be worried about high contamination levels in UK waste.
Britain sends about two-thirds of its plastic packaging waste abroad every year, including plastic bottles, yoghurt pots and other items.
Exporters charge retailers and manufacturers a rate per tonne for plastic waste, and retailers are allowed to use these payments as proof they are meeting their recycling obligations. But MPs have criticised the system for being open to fraud.
Exporters are illegally claiming for tens of thousands of tonnes of plastic waste which might not exist
Plastic waste is not being recycled and is being left to leak into rivers and oceans
UK firms accused of shipping contaminated waste - when non-recyclable items are mixed in with recyclables items - are being allowed to continue exporting.
According to the Guardian, data passed to the EA shows a huge difference between the amount of packaging exports recorded by HM Customs, compared with the amount UK exporters claim to have shipped.
The newspaper, which analysed the data, said British exporters claimed to have exported 35,135 tonnes more plastic than HM Customs recorded.
'Fraudsters and criminals'
It also reported that six UK exporters of plastic waste have had their licences suspended or cancelled in the last three months. One had had 57 containers of plastic waste stopped at UK ports over the last three years due to concerns over contamination.
The UK plastic waste export industry is said to be worth £50m year.
An EA spokesman did not comment on specific claims, but said: "Waste crime damages lives, livelihoods and the environment.
"We have a specialist central investigative team and dedicated staff up and down the country who tackle it. We take seriously all allegations of fraud and... will bring fraudsters and criminals to justice."
A National Audit Office inquiry earlier this year warned that the current system was open to abuse and was not being monitored properly.
It said that the financial incentive for companies to fraudulently claim they had recycled plastic packaging was "higher than for any other material".
"There is therefore a risk that some of it is not recycled under equivalent standards to the UK and is instead sent to landfill or contributes to pollution," it said.
On top of that, this year, five export firms flagged as high risk are still operating and 33 considered to be of medium risk are also still accredited to export waste.
It comes after China and Vietnam have stopped importing foreign plastic waste amid concerns about high contamination levels.
This has had a knock-on effect on UK local authorities, many of which have cut their plastic recycling services amid a build-up of waste.
Basingstoke and Deane Borough Council has told residents to recycle only plastic bottles, leaving all other plastics in normal rubbish bins.
It said the main benefit of the temporary measure was "to prevent the risk of it ending up in overseas landfill or worse".