A quick guide to the US-China trade war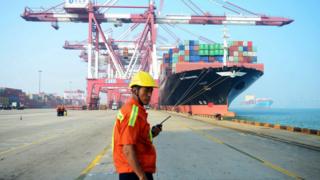 The US and China are locked in an escalating trade battle.
US President Donald Trump has complained about China's trading practices since before he took office in 2016.
The US launched an investigation into Chinese trade policies in 2017. It imposed tariffs on billions of dollars worth of Chinese products last year, and Beijing retaliated in kind.
After months of hostilities, a breakthrough of sorts came in December. Both countries agreed to halt new trade tariffs for 90 days to allow for talks.
They imposed a deadline of early March to resolve their differences, or the battle may heat up again.
What tariffs are in place?
So far, the US has imposed three rounds of tariffs on Chinese goods, totalling more than $250bn.
The duties range from 10% to 25% and cover a wide range of industrial and consumer items - from handbags to railway equipment.
President Trump has threatened tariffs on another $267bn worth of goods - meaning all Chinese imports could be subject to tariffs.
The US has also put tariffs on worldwide imports of goods like steel and washing machines, which further affects products from China.
Beijing hit back with tariffs on $110bn of US goods, accusing the US of starting "the largest trade war in economic history".
China has targeted products including chemicals, coal and medical equipment with levies that range from 5% to 25%. It has strategically targeted products made in Republican districts, and goods that can be purchased elsewhere, like soybeans.
Why tariffs?
Tariffs, in theory, make US-made products cheaper than imported ones, and encourage consumers to buy American.
What is the impact so far?
Both US and international firms have said they are being harmed.
Fears about a further escalation has rattled investors and hit stock markets.
The IMF warned a full-blown trade war would weaken the global economy.