A quick guide to the US-China trade war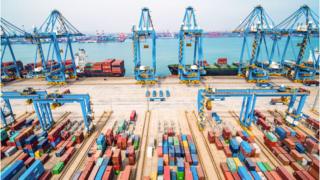 The US and China are locked in a bitter trade battle.
US President Donald Trump has complained about China's trading practices since before he took office in 2016.
The US launched an investigation into Chinese trade policies in 2017. It imposed tariffs on billions of dollars worth of Chinese products last year, and Beijing retaliated in kind.
Both countries agreed to halt new trade tariffs in December to allow for talks. But hope for a deal faded, and further tit-for-tat tariffs were imposed.
What tariffs are in place?
Last year, the US imposed three rounds of tariffs on more than $250bn worth of Chinese goods.
The duties of up to 25% cover a wide range of products, from handbags to railway equipment.
China hit back by imposing tariffs ranging from 5% to 25% on $110bn of US products including chemicals, coal and medical equipment.
A truce agreed last December collapsed and in May the US raised tariffs on $200bn of Chinese products to 25% from 10%. Again China retaliated with tariff on $60bn of US goods.
The US began planning to hit an additional $300bn of Chinese goods but, at the G20 in Japan in June, Mr Trump called that off and said he would continue to negotiate with Beijing "for the time being".
Why tariffs?
Tariffs imposed on Chinese goods, in theory, make US-made products cheaper than imported ones, and encourage consumers to buy American. They are also increasingly seen as a negotiation tactic in the trade war.
What is the impact so far?
Both US and international firms have said they are being harmed.
Fears about a further escalation have rattled investors and hit stock markets.
The IMF warned a full-blown trade war would weaken the global economy.