Flybe shares sink on profit warning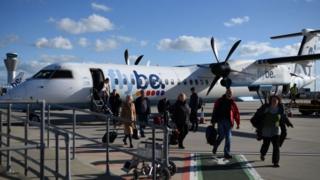 Flybe shares have fallen more than a third after issuing a profit warning, blaming poor demand, a weaker pound and higher fuel costs.
The airline said in a trading update it now expects a full-year pre-tax loss of £22m before - far higher than analysts had expected.
It has taken a £29m hit from weak sterling and a rise in fuel prices.
However, the overall loss would be closer to £12m due to a £10m windfall from ending an onerous lease.
In June the Exeter-based airline reported an annual pre-tax loss of £19.2m, which it blamed on poor winter weather, a major IT overhaul and additional maintenance costs.
Christine Ourmieres-Widener, chief executive of Flybe, said the market had softened in recent weeks after passenger revenue per seat rose 6.8% over the summer period.
"We are reviewing further capacity and cost-saving measures. Stronger cost discipline is starting to have a positive impact across the business, but we aim to do more in the coming months, particularly against the headwinds of currency and fuel costs," she said.
"We continue to strengthen the underlying business and remain confident that our strategy will improve performance."
Peter Morris, an aviation economist with FlightGlobal, argued that the UK economy has affected Flybe's performance this year.
"Given that the pound is weakening and they've got to buy their fuel and leases in dollars, you've got a challenge where your revenues are either fixed or declining, and your costs are rising," he told the BBC.
There was a market for Flybe in taking passengers to and from secondary UK cities to destinations across Europe, and opportunities in providing contract flying to other airlines, Mr Morris said.
However, Flybe was "sandwiched" between the business model of budget airlines such as Ryanair, and the network carriers like British Airways that use short-haul flights to connect with long-haul services.
"For example, it might fly from Southampton to Amsterdam, but it's not a major trunk route, so it doesn't have enough corporate flyers. But if it gets to a critical mass, then low cost airlines will join in and fly those routes at lower costs," Mr Morris said. "If you are successful, either group will come after you."
However, Flybe would first need to weather the winter period, where demand was typically the lowest, he warned.
Shares fell 11.8p to 20.3p in morning trading, valuing the firm at just £68m.
Flybe has 78 planes, two fewer than at the end of March.
Its interim results will be issued on 14 November.