John Lewis trials £10,000 experience to lure in shoppers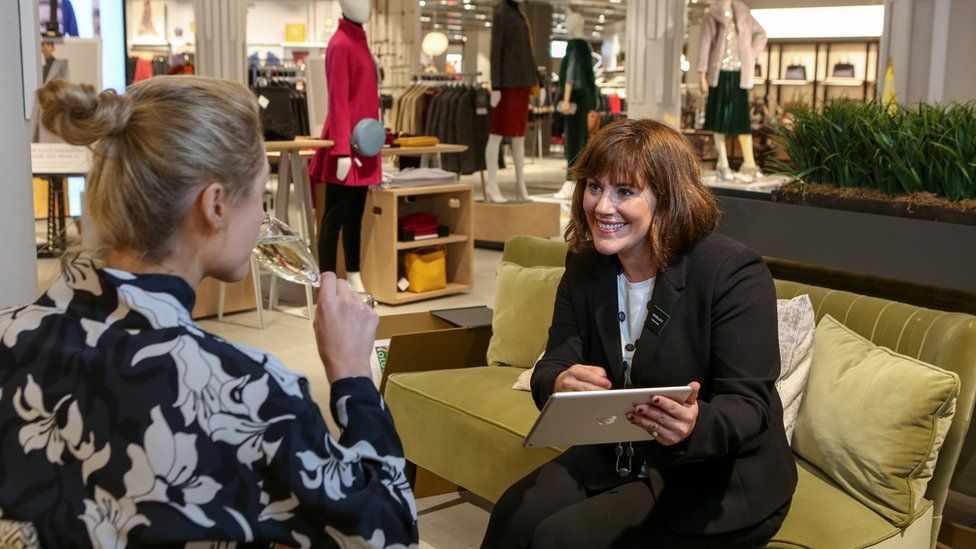 John Lewis is trying to tempt shoppers to its new Cheltenham store by offering them a chance to have the shop to themselves if they spend £10,000.
The private shopping experience is one of several experiences the department store chain is offering in a bid to revive its flagging fortunes.
It has already said its 51st shop is likely to be its last store.
The new shop comes amid a shopping slowdown that has seen a host of big businesses shut stores or go bust.
Retailers are having to go to more effort to attract shoppers who are choosing to buy online rather than in store.
At the new store in Watford, which rival Debenhams opened last month, you can get a facial or a blow-dry, as well as try on new outfits in revamped changing rooms, complete with adjustable "mood" lighting.
John Lewis' new Cheltenham store is hoping to win over customers with extensive personal shopping services, which allow the customer to sit back with a glass of sparkling wine while staff locate the items on their shopping list.
Personal stylists for both men and women, and "gift gurus" are also on hand to help customers get the right look, or to help them find the perfect present for hard to please friends or relatives.
The shop's experience desk also offers "nursery advice" for new or prospective parents, home design consultations, and there is a "discovery room" where workshops and classes are run.
Peter Cross, director of customer experience, said the new store was aiming to bring "the intimacy, luxury and magic of personal shopping to the High Street".
Natalie Berg, a retail analyst with NBK Retail, said stores of the future would need to realise that they can't reserve the best treatment just for the very few.
"You need to give shoppers a reason to ditch their screens and come into the store," she told the BBC.
"Just recognising the idea of retail as a service - democratising personal shopping - is key."
As time goes on, Ms Berg says that retail assistants will increasingly shift to become brand ambassadors, and since employees own a share of John Lewis, the chain is likely to benefit from this trend.
However, as the chain has already admitted it remains a "challenging time" for the sector.
Rival House of Fraser recently went into administration before being bought by Sports Direct, while stores such as Debenhams, New Look and Homebase have closed dozens of outlets.
John Lewis' attempts to engage customers against a difficult backdrop did appear to be working, GlobalData retail analyst Maureen Hinton told the BBC.
"The personal services they've introduced so far have been very successful, but they're only in a few stores," she said, citing the Westfield London store which saw 20% of sales coming from six personal stylists.
"They really have to roll it out to make it successful, and prove it has an impact," she said.
The offer of having the store to yourself as long as you spend a minimum of £10,000, also made sense she said. For example companies could book the store for the use of their employees to help them get their Christmas shopping done.