Grant Thornton chief executive Sacha Romanovitch departs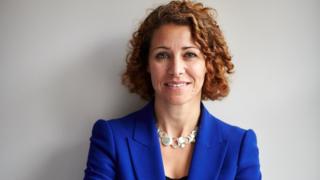 Sacha Romanovitch, the first woman to run a big City accountancy firm, is stepping down as chief executive of Grant Thornton.
The firm said she would depart when her successor was chosen.
The leadership style of Ms Romanovitch, who brought in changes such as profit-sharing for all staff, was criticised in a recent anonymous memo, which said she was pursuing a "socialist agenda".
She was appointed as the firm's chief executive in 2015.
The internal memo attacking Ms Romanovitch's leadership style was sent to several media organisations and claimed to speak for 15 partners or directors.
It also accused her of "misdirecting" the firm, which it said was "out of control" and had "no focus on profitability".
At the time in response, she told the Guardian: "A small cadre of partners will find it hard we are making decisions that will depress profits in the short term but will help profits in the long term.
"If profits get unhinged from purpose it might not hurt you now, but it will come back and bite you on the bum."
'Switch off from work'
Ms Romanovitch, who also capped her own salary and spoke out on issues such as mental health in the workplace, reflected on her employee-friendly leadership style in a BBC interview in the summer.
She revealed that her out of office email message during her holiday read: "I'm off with my family right now, back on 23 July. I'll be reading, diving and playing with my boys while they still want to play with me!
"My great team will be dealing with my emails while I'm off ensuring you get support from the right people to keep things moving."
At the time, Ms Romanovitch explained she wanted to make clear that people should have time to switch off from work.
"There is still so much that creates a sense of needing to work 24/7. My out of office is just one of those little things I do to signpost what I think should be the norm."
'Innovative and inspiring'
Ed Warner, chairman of Grant Thornton UK's partnership oversight board, said Ms Romanovitch had been "an inspiring CEO attracting great people to our firm and what we stand for".
He added: "Following discussions with Sacha, the board has agreed that a new CEO is the logical next step to create long-term sustainable profits for the firm. We are grateful for the innovative and inspiring work Sacha has done."
In her own statement, Ms Romanovitch, who joined the company in 1994, said: "It has been a privilege and an honour to lead this firm. I am proud of what we have achieved in the market, with our people and with our clients, breaking the mould in so many ways.
"We have attracted so many talented people and great clients to our firm due to our purpose and what we stand for."
The 50-year-old added that she would help the company in its transition to new leadership before leaving.
Last year, Ms Romanovitch received an approval rating of 88% from staff in a recruitment firm's survey of employees' top 50 chief executives.
Earlier this month, Ms Romanovitch told the Times newspaper that she intended to stand for election for a second four-year term in office.
Grant Thornton audits Patisserie Valerie, which nearly folded last week.
On Thursday, the cafe chain announced that its board had found "a material shortfall between the reported financial status and the current financial status of the business".
In August, Grant Thornton was fined £3m by a watchdog for misconduct over its audits of Vimto-maker Nichols and the University of Salford.