Nasty Gal ad banned over underweight model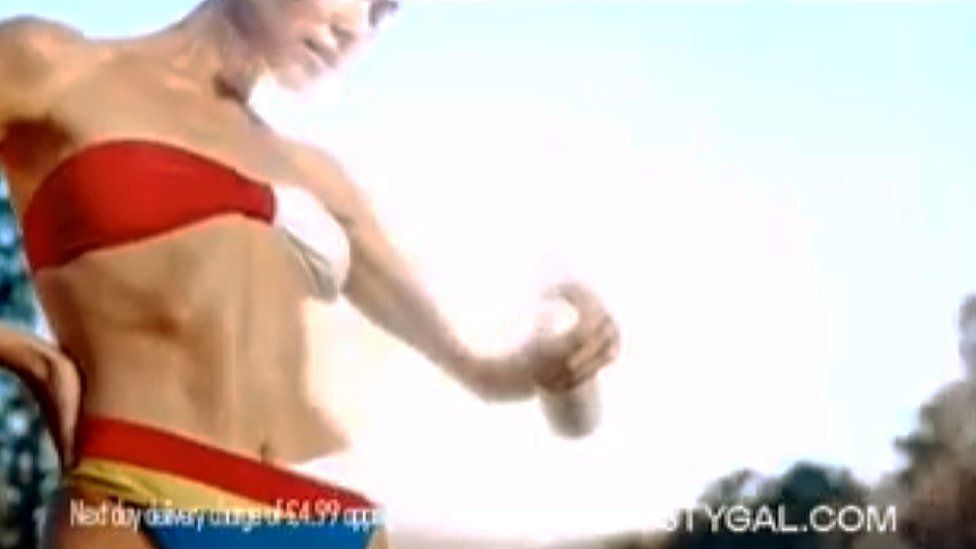 The Advertising Standards Authority (ASA) has banned three Nasty Gal television ads for using a model that appeared "unhealthily underweight".
The ASA received 22 complaints from viewers, who challenged whether the ads were "socially irresponsible".
The online fashion retailer said the model was a UK size 8, with a body mass index (BMI) of 18.8, within the healthy weight range.
The ASA said the model's poses drew attention to her "prominent" ribcage.
"While the female model in the ads generally appeared to be in proportion, there were specific scenes which, because of her poses, drew attention to her slimness," said the ASA in its ruling.
It pointed to a scene in the ads showing the model lying on a sun lounger stretching her arms, which "emphasised their slimness and length", as well as a scene where the model sprayed mist on herself, in which her ribcage was clearly visible.
The ASA concluded: "We considered that the model appeared unhealthily underweight in those scenes and concluded that the ads were therefore irresponsible."
Nasty Gal said: "We want to do all we can to use our voice to promote body positivity and diversity. We have worked with the model in this ad many times and she is represented by one of the world's leading agencies, whose key priority is the health of their models.
"Her athletic build is in accordance with the NHS guidelines for a healthy adult woman. However, upon receiving notice of the complaint from the ASA, the ad was immediately removed from air."
Over the last three years, concerted efforts have been made in the fashion industry to stop using underweight models.
In April 2015, France passed a law banning the use of catwalk fashion models deemed to be excessively thin.
Under the law, modelling agencies that employ models below a certain BMI level face fines or prison terms, while magazines can be fined if they do not state when photos have been retouched.
Later that year, an ad by luxury fashion brand Yves Saint Laurent (YSL) that appeared in Elle UK magazine was banned by the ASA for featuring a photo of a woman whose rib cage was visible and appeared prominent.
Luxury fashion retailer Gucci has also fallen afoul of the ASA.
And in April this year, online fashion retailer Motel Rocks was made to remove five online ads and reshoot the images, after the ASA found that the models' collarbones and shoulder blades were highly visible.
In this case, the ASA said it was concerned that the models used poses designed to make their bodies look thinner.
This was likely to create the impression that the images were something to aspire to, it said.