RBS boss: Rebuilding trust will take another 10 years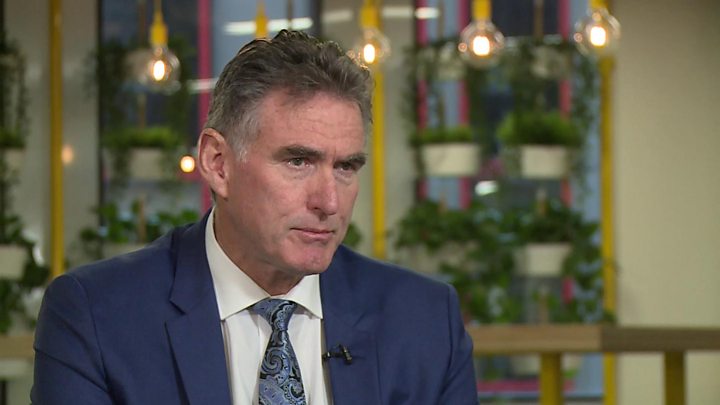 It's 10 years since RBS received a £45bn bailout from the taxpayer, but boss Ross McEwan says its reputation could take another decade to restore.
RBS now has one of the highest levels of cash reserves in the industry.
But Mr McEwan told the BBC that while its finances may now be fixed when it comes to building levels of trust, there is still a long way to go.
"I think it will take five - maybe even 10 - years to rebuild trust to where we'd want it to be."
RBS's reputation has suffered more than most banks since the crisis. As well as paying out billions in fines and compensation, its poor treatment of many small business customers in the aftermath of the crash was the subject of a highly critical report from the Financial Conduct Authority.
Emails from RBS staff encouraging colleagues to "give business enough rope to hang themselves" and allegations that an RBS subsidiary acquired property from distressed companies at knockdown prices to sell at a profit (a charge that was not held up by the investigation), painted a cynical picture of the culture in some parts of RBS.
A sense of injustice was compounded when the banking watchdog, the FCA, concluded - after a four-year inquiry - that RBS's business-lending activities were not within its regulatory remit.
I put it to Mr McEwan that the failure to deal with these issues was a source of ongoing mistrust. He admitted that the bank had failed some customers, and said sorry.
"We were not there supporting customers in the way we should have been and for that once again I apologise."
Painful surgery
Mr McEwan has spent exactly five years at the helm helping oversee what he describes as "one of the biggest turnarounds in corporate history".
It's been a long hard slog and left RBS barely recognisable from the beast it was in 2008, when it was the world's biggest bank on some measures.
In the last decade it has shut up shop or sold operations in 41 countries, shedding some 130,000 workers.
It used to make nearly 40% of its revenue overseas - today that's only 7% and its assets shrank from £2.2 trillion (that's more than the entire UK earns and spends in a year) to £748bn.
This kind of surgery is painful. In total, the bank has racked up losses from fines compensation and restructuring costs of £63bn. In other words - it chewed through the whole £45bn bailout and then some.
It's now making a profit of about £1bn every three months and has started paying a dividend to its shareholders, but Mr McEwan acknowledges it's very unlikely that taxpayers will ever be repaid in full.
For normal customers, perhaps the most visible changes are in the cities, towns and villages where the branches are - or aren't.
Since 2007, the number of RBS branches (including NatWest, Royal Bank of Scotland and Ulster Bank) has more than halved. Like other banks, RBS points to the rise in the popularity of banking online or via mobile as an explanation/excuse for more than 1,000 closures, but if you are trying to rebuild RBS as your friendly neighbourhood bank, it surely helps if you have one in your neighbourhood.
Replacing branches with mobile apps is all very well if the technology works, but often it hasn't. Serious meltdowns in 2012 and 2014 led to chaos for customers and cost the bank more than £100m in fines.
That is why the bank is trying to simplify the plumbing that underpins its services. From a mindboggling 5,000 separate computer systems and applications, RBS now runs a "mere" 2,500 and hopes to get that down to 1,500 by 2020.
"We will never be simple - but we will be simpler," he says, adding that he considers the threat of cyber-attack the bank's number one risk.
Mr McEwan and his boss, RBS chairman Sir Howard Davies, know that rebuilding the RBS brand is a big job - which is one of the reasons they are thinking of ditching it altogether. Sir Howard has been saying for months that the company is a collection of brands (NatWest, Ulster, Coutts etc) with the most toxic one on top.
That process has already started. The RBS logo on its UK headquarters in London has been replaced with a NatWest sign - and the same is happening in remaining RBS branches across England and Wales. In Scotland, RBS will still be the Royal Bank of Scotland or "the Royal" for short.
But as long as people remember the great financial crisis, the name RBS will live on.