UK film and TV sees record investment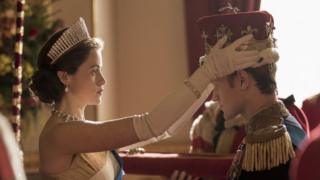 The British Film Institute (BFI) says the UK film and TV industry generated a record £7.9bn in 2016, helped by government tax reliefs.
A BFI-commissioned report found that £632m in tax relief prompted additional spending of more than £3bn on the creation of films, high-end television, such as The Crown, and computer games.
It said HM Revenue and Customs got more than that money back, gaining £2bn tax.
The BFI says this proves the value of such tax reliefs to the wider economy.
The report looked at the effects of tax reliefs granted across the UK's screen industries, which include film, high-end television programmes, video games and animation programmes, and children's TV.
The BFI claims the money generated 137,000 jobs in 2016 alone.
Another beneficiary is tourism.
Films with a strong UK story, place and culture such as Harry Potter, Paddington and Kingsman have featured prominently in UK tourism campaigns.
The BFI said high-end television production in the UK has also boomed since the introduction of the tax relief in 2013. Major shows which have been hits around the world include Game of Thrones, The Crown, The Night Manager and Black Mirror.
The report estimated that visitors to the UK spent almost £600m in film-related tourism.
UK Chancellor Phillip Hammond welcomed the report, saying: "From TV shows like The Crown, to films like Darkest Hour, and animations like Peppa Pig, our creative industries are intrinsic to the rich cultural fabric of the UK."
He said they had supported tens of thousands of jobs and helped to develop clusters of excellence across the UK, such as those in Dundee (video games), Cardiff (TV) and Church Fenton in North Yorkshire (film and TV).
The BFI said it commissioned the report, called Screen Business, to provide the solid evidence of success needed to attract continued public and private investment in the screen industries.
It said this would help policymakers to help create the best possible conditions for future growth.