The Apprentice: Where are past winners now?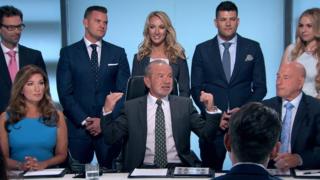 Sixteen more would-be tycoons will be battling it out as The Apprentice returns to TV screens.
The reality show, chaired by business magnate Lord Alan Sugar, kicks off on BBC One on Wednesday at 21.00 BST.
Last year's series crowned two winners who landed £250,000 for their businesses.
Previous winners were given highly paid jobs in Lord Sugar's companies. So what's happened to the careers of some of the winners since their TV triumph?
Tim Campbell (2005)
Tim became the first ever winner of The Apprentice when it launched in 2005.
He landed a £100,000-a-year job with Lord Sugar's firm Amstrad and left after two years to found Bright Ideas Trust, a charity which helps young people to set up their own businesses.
Tim received an MBE in 2012 and now runs his own digital marketing agency, Marketing Runner.
Michelle Dewberry (2006)
Nicknamed "the Silent Assassin" for her quiet determination throughout The Apprentice's second season, Michelle became the show's first female winner.
She was hired to launch Xenon Green, Lord Sugar's computer equipment disposal venture, but left after less than a year and now runs her own business consultancy.
In the general election last year she ran as an independent, pro-Brexit candidate for Hull West and Hessle but came fourth out of seven candidates with just 5.5% of the vote.
Yasmina Siadatan (2009)
Yasmina took a year-long job with Amstrad's medical supply division after winning series five of The Apprentice in 2009. A year later she left after becoming pregnant following a romance with a work colleague.
She went on to work for a private equity firm run and then for Start Up Loans Company, a government-backed agency which provides funding for British entrepreneurs looking to start their own businesses.
Yasmina has spoken publicly about her half-brother who left Britain in 2014 to join Islamic State in Syria.
Stella English (2010)
After growing up in a council estate, Stella left school with no qualifications but worked her way up to becoming the only female manager on the trading floor of a Japanese investment bank.
She left her £80,000-a-year job and won The Apprentice's sixth series in 2010. She worked for Viglen and YouView but left after 13 months and tried to sue Lord Sugar for constructive dismissal, saying she felt like an "overpaid lackey."
Stella now hosts Crowdbox TV, a crowdfunding television channel.
Tom Pellereau (2011)
Former engineering student Tom won a £250,000 investment prize after the show adopted a new format in its seventh series.
The inventor developed a uniquely curved curved nail file and now runs a beauty accessories company, AVENTom, with Lord Sugar.
He has since come up with several other inventions, including a collapsible baby bottle and a make-up brush cleaner.
Sarah Lynn and James White (2017)
In a surprise end to the latest series, Lord Sugar crowned two winners for the first time in The Apprentice's 12-year history. Sarah and James each received a £250,000 investment and a 50/50 partnership with Lord Sugar.
James has used the money to expand his business Right Time Recruitment, while Sarah has developed Sweets in the City, a confectionery brand now stocked by the likes of Harrods and Selfridges.