Tesco shares hit by weaker than expected profits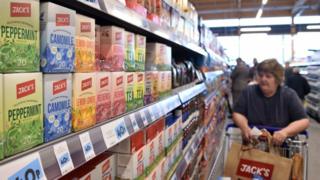 Tesco shares have tumbled 8% after the company reported disappointing profits.
While Tesco reported its 11th quarter in a row of rising sales, analysts were troubled by weak profit growth.
During the first half of the year, pre-tax profits rose 2.2% to £564m.
Across the group like-for-like sales, which remove the impact of new stores, rose 4.2% in the second quarter. Tesco chief executive Dave Lewis said this was the best sales growth in more than a decade.
The firm had "made a good start to the year", Mr Lewis said, with profits mainly driven by growth in the UK and Ireland.
But some analysts were more cautious.
Bruno Monteyne, an analyst with investment bank Bernstein, said that Tesco has delivered strong sales growth in food in the UK and at Booker, but overall profits were "soft".
Others had concerns over profit margins.
Laith Khalaf, a senior analyst at Hargreaves Lansdown, said analysts had been expecting profits margins to be about 4% by 2020, but the supermarket chain saw margins of closer to 3.5%.
Neil Wilson of Markets.com said investors may have been expecting too much of Tesco.
"This looks rather like expectations had maybe been set a little too high, rather than Tesco underperforming," he said.
---
---
Last month Tesco unveiled a new discount chain called Jack's to take on discounters such as Aldi and Lidl.
Mr Lewis said he was "really very happy so far" with the performance of the two new stores.
"So far, so very very good," he said. "The two stores are trading very well, consumer feedback is really very good."
Two more Jack's will launch on Thursday in Edge Hill and St Helens in Liverpool, he added.
Sales at Booker, the food wholesaler that Tesco bought at the end of last year, jumped 15.1%.
Brexit plans
Mr Lewis said that retail market conditions were tough, and that the supermarket was making contingency plans for Brexit.
"The biggest single challenge will be in a no-deal scenario, will be what happens with fresh food," he said.
"It's all about product flow [over borders]. The possibility of stockpiling fresh food is very, very limited."
Mr Lewis said in the lead-up to Brexit Tesco was focusing on how to ensure movements of fresh food were not held up.
He added that the retailer was looking at stockpiling grocery products, with contingency planning stepping up after Christmas if a deal is still not struck.