Mike Ashley sacks House of Fraser management team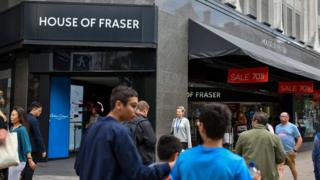 Mike Ashley's firm has sacked the senior management at House of Fraser just weeks after it bought the chain.
In a one-sentence statement, Sports Direct said it had "dismissed the former directors and senior management of House of Fraser".
Those departing the chain will include chief executive Alex Williamson. It is not clear who will replace the management team at House of Fraser.
Sports Direct paid £90m for House of Fraser's 58 UK stores in August.
'Heavy handed'
Richard Lim of Retail Economics, a consultancy, said the new owner had taken "drastic action following a series of woeful management decisions, clumsy execution and an outdated perception of the UK market".
He added: "The retailer operates in the part of the industry under the most significant amount of pressure and the race is on to rapidly restructure the business to ensure the takeover is a success."
Richard Hyman, independent retail analyst, agreed the previous management team had been weak, but said this way of bringing in new leadership was unnecessarily abrupt: "He was always likely to want his own people in there. One might have thought he'd do it in a low key way, avoiding making waves and disruption.
"But he is always unconventional and thus seems like an over-dramatic, heavy handed and unnecessarily negative way of doing it.
"One would have thought a few of them would be worth keeping in order to maintain continuity at least."
On Monday, flooring and furniture specialist ScS, which operates concessions in 27 House of Fraser stores, said the problems at the department store chain meant trading at those concessions remained "challenging".
"We are currently in discussions with the new owners with a view to agreeing a mutually beneficial arrangement, which will allow us to continue trading in a profitable manner in as many of the current concessions as possible," ScS added.
Missing luxury
Mr Ashley has vowed to turn the department store chain into the "Harrods of the High Street" and to keep most of its stores open.
"We think the biggest and most important thing House of Fraser is missing is luxury brands," he told the Sun in August.
Since buying House of Fraser, Mr Ashley has been negotiating with the chain's landlords to try to cut rents.
Analysis:
Emma Simpson, business correspondent
It's not that surprising the top brass at House of Fraser are being shown the door. The chairman, Frank Slevin, has already left - a key executive who had no retail experience. The chief executive, Alex Williamson, who was appointed little over a year ago, also lacked a background in retail having previously run the Goodwood estate in Sussex.
The chain's chief financial officer also had no retail background to speak of either. House of Fraser's problems go back many years. But many observers believe these top executives simply didn't have the necessary expertise to turn around such a big and complex chain.
It's not clear from the brief statement how many of the management team Mr Ashley has dismissed. The big question is who is going to run the business from now on, with the crucial Christmas trading period getting underway? Reviving the fortunes of House of Fraser will take great skill as well as investment.
Last month, he said that 15 sites previously earmarked for closure would stay open. However, Mr Ashley blamed "greedy landlords" for the closure of stores in Edinburgh, Hull and Swindon.
Sports Direct was forced to rule out making a takeover bid for Debenhams after Simon Bentley, an outgoing director of Sports Direct, said the board had discussed combining the two department store chains.
Mr Ashley's firm owns a 29.7% stake in Debenhams.
Mr Bentley later said he had "made no mention of any merger".