Powerleague five-a-side football firm to close 13 sites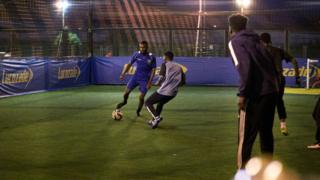 Five-a-side football operator Powerleague has put forward a rescue plan that will result in the closure of 13 sites and the loss of 109 jobs.
The company plans the changes through an insolvency procedure known as a company voluntary arrangement (CVA).
It has suffered three years of falling revenues and has failed to raise sufficient funds to pay for leases.
Powerleague operates 440 football pitches at 50 sites across the UK and Ireland, employing over 580 people.
"Without an approved CVA, Powerleague will not be able to secure the additional funds that the business needs and will most likely result in the company going into administration," the company said.
The 13 sites identified for closure are:
Finchley
Sheffield
Kilmarnock
Shrewsbury
Yardley
Leeds Central
Leeds East (Football World)
Leeds North
Halesowen
Hamilton
Manchester South
Basingstoke
Teesside
Employees affected by the site closures have already been informed, the company said.
New management
Creditors will be invited to vote on the CVA on 16 October.
Powerleague added that it had already held "constructive" initial discussions with its landlords about the restructuring.
In August, Powerleague hired Christian Rose to be its new chief executive, and Mike Evans to be the new chief financial officer.
Mr Rose and Mr Evans had previously worked for bowling alley chain All Star Lanes, where they had led a successful restructuring programme.
"Closing sites is a difficult decision to make and we are supporting those personally affected," said Mr Rose.
"These significant changes are essential to a sustainable future for Powerleague and I am committed to our long-term turnaround plan."