Ryanair to cancel 190 flights on Friday across Europe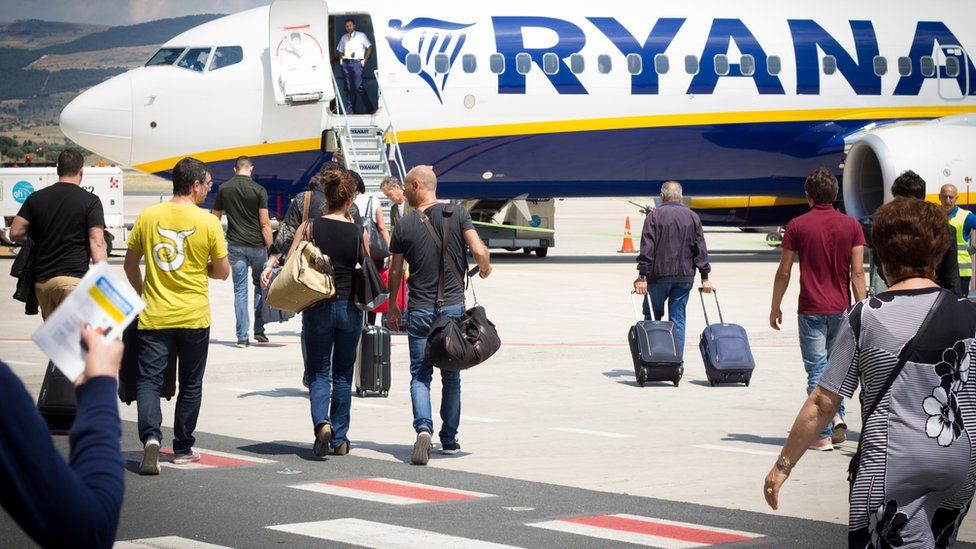 Ryanair says it has cancelled 190, or about 8% of its 2,400 scheduled flights this Friday.
The airline has adjusted its schedule in the face of strike action being taken by unions in Spain, Belgium, Holland, Portugal, Italy and Germany.
The Irish airline says this will affect 30,000 passengers, who have been notified by text and email.
The long-running industrial action by Ryanair staff centres on working conditions.
Ryanair says it "sincerely regrets these unnecessary customer disruptions", which it blames on agitation from competitor airlines.
Workers based in countries other than Ireland are unhappy that Ryanair has been employing them under Irish legislation.
Staff claim this creates significant insecurity for them, blocking their access to state benefits in their home country.
Employees say they are compelled to receive their pay in Irish bank accounts, which affects their credit rating in their home country. Any queries they have must be made to an Irish number, which is more expensive than a local call.
Ryanair said it has agreed to move to local contracts, law and taxation as quickly as possible next year, but with certain conditions.
The company said on Tuesday it had signed deals with three cabin crew unions in Italy to provide employment contracts under Italian law.
Ryanair said it had made significant progress in recent weeks with union negotiations, which include pilot and/or cabin crew agreements in Ireland, UK, Italy and Germany.
It added that, in the past two weeks, it had written to the pilot unions in Belgium, Holland, Spain, Portugal and Germany inviting them to negotiate similar agreements to that reached in Ireland for both pilots and cabin crew.