Michael Kors snaps up Versace for $2.1bn
By Rebecca Marston
Business reporter, BBC News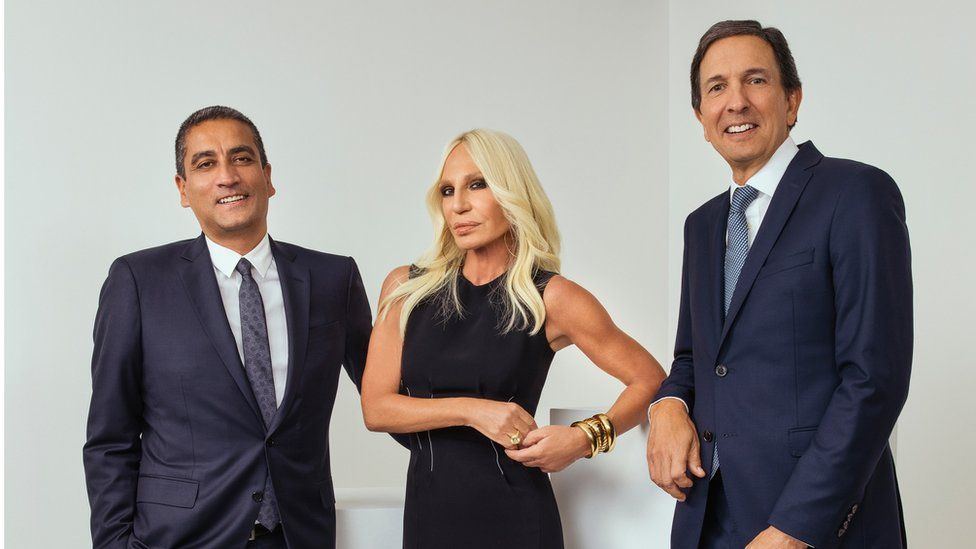 US fashion giant Michael Kors has confirmed a $2.1bn takeover of Versace in a move that has outraged some fans of the Italian fashion house.
Creative director, Donatella Versace, has run Versace since the 1997 murder of her brother Gianni.
She called the sale a "very exciting moment" and said it would "allow Versace to reach its full potential".
Donatella will continue to lead Versace's "creative vision", said Michael Kors chief executive John Idol.
Mr Idol said Versace represented the "epitome of Italian fashion luxury" and its acquisition was an important milestone for the company, which is being renamed Capri Holdings.
Private equity firm Blackstone Group, which bought a 20% stake in the firm four years ago, will sell its holding.
The new owner plans to increase the number of Versace outlets from 200 to 300 stores.
It also plans to more than double turnover to $2bn, partly by boosting the percentage of footwear and accessories - a category that is often more affordable and faster-selling - from 35% to 60% of revenues.
Versace's vivid and distinctive brand has been worn by some of the world's highest-profile stars and graced the pages of newspapers and magazines more often than almost any other luxury fashion brand.
A key moment came in 1994 when the unknown Elizabeth Hurley accompanied boyfriend Hugh Grant to the premiere of Four Weddings and a Funeral. The tabloids could not believe the sight.
Versace, until then just another Italian fashion brand, became synonymous with "That Dress".
The brand has since been most valued by the glitzier ranks of the famous, with Michael Jackson and Princess Diana among its fans. She attended Gianni Versace's funeral, along with Elton John, who has also been a keen wearer of Versace.
The newer generation include Nicki Minaj, a clutch of Kardashians and Jenners, and the Beckham family, the latter are among the mere 161 people Donatella follows on Twitter.
But those fearing a despoiling of the Versace magic may be worrying unnecessarily.
Michael Kors is also known as a luxury brand, although a lot of its ranges carry lower price tags, which give the label a far wider customer base.
He designed the first women's ready-to-wear collection for high-end Paris fashion house Celine.
Customers have included Taylor Swift, Angelina Jolie, the leading Trump women and Michelle Obama.
The Versace purchase will help position Michael Kors as a competitor to French luxury conglomerates LVMH and Kering and the Swiss company Richemont, analysts said.
Versace reported sales of €686m for 2016 and its chief executive Jonathan Akeroyd, who will also stay on, said earlier this year that annual turnover was soon expected to exceed €1bn.
With Donatella remaining at the creative helm, the Versace fans who have protested at the takeover may not notice any change. After all, why buy a well-loved business and tear up what makes it appealing?
Born 1959 in Long Island, New York State.
Studied acting but decided to become fashion designer at aged 14.
Enrolled at the Fashion Institute of Technology in New York City but dropped out after only nine months to work at Lothar's boutique in Manhattan.
In 1981, Kors launched his Michael Kors women's label at upmarket New York store, Bergdorf Goodman.
Filed for bankruptcy protection in 1993 but relaunched four years later with a cheaper line, while also becoming the first women's ready-to-wear designer for French luxury fashion house, Celine.
Left Celine in 2003 to focus on his own brand.