Air travel 'without your passport leaving your pocket'
By Gabriella Mulligan
Technology of business reporter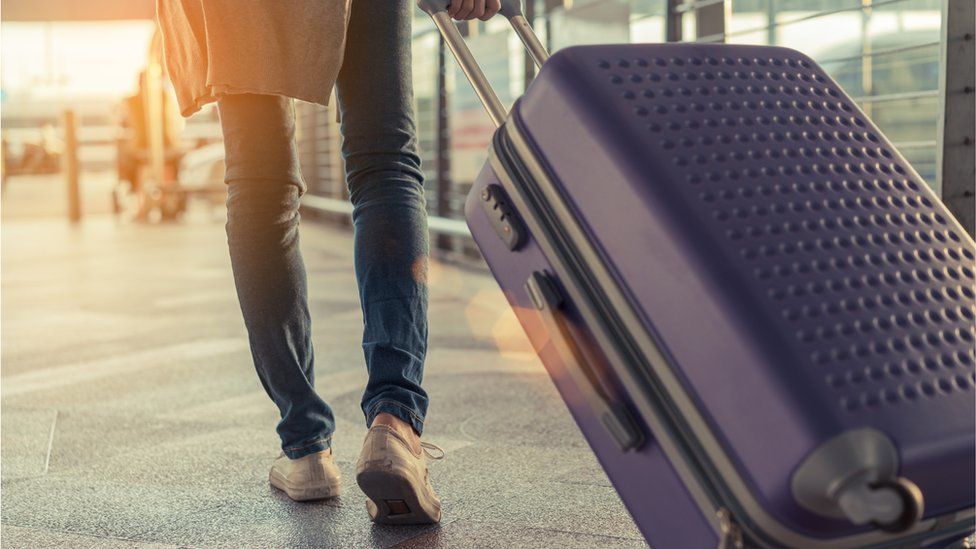 New technologies are helping to tackle one of the great scourges of air travel - airport queues. But at what cost to our privacy?
Queues to check-in and drop your bags, at security, at passport control and finally queues at your boarding gate.
Air travel can be a frustrating business, even if these queues are largely a result of airports trying to ensure our safety.
And as more of us fly - 4.4 billion passengers are forecast to take to the skies in 2018 - airports are being pushed to their limits.
So the industry is hoping technology can streamline the process, with increasing use of biometrics such as facial recognition - and not just at passport control.
For example, British Airways uses facial recognition when boarding passengers on domestic UK flights, as well as for some international flights out of the US.
Travellers flying from Heathrow are photographed when going through security. A second photo is taken at the boarding gate - and if the image matches the original one and the data confirms they are at the right gate, it automatically opens.
The US system combines check-in information with biometrics - images and fingerprints - and biographical data from passports and visas. When a passenger arrives at a boarding gate, a new photo is taken and compared to the data on record.
Raoul Cooper, digital airport design manager at British Airways, says this approach can halve the time it takes to board 240 people onto an international flight, with a consequent 10% improvement in flight punctuality.
"We believe that this starts to prove how we can use identity services more widely and is an important part of our ambition to create a seamless journey," says Mr Cooper.
"One day, a traditional passport scan or swipe may no longer be needed."
Similar face-scanning technology is being trialled at Singapore's Changi airport, where one potential application could be spotting lost passengers who've missing the final boarding call for their flight, the airport operator says.
Changi's Terminal 4 is already using the tech for self-service check-in, bag drop, immigration and boarding.
In the US, Delta Airlines is planning to use facial recognition at check-in, security, boarding and customs at the Maynard H. Jackson International Terminal at Jackson Atlanta airport, doing away with passport checks altogether for some international travellers.
Research consultancy Frost & Sullivan reckons airport spending towards improving the passenger experience will reach $4.2bn (£3.2bn) by 2020.
"Technology integration into airport functions is driven by a growth demand in air travel and shrinking terminal capacity," says Renjit Benjamin, the firm's industry analyst for aerospace, defence and security.
"The tendency to employ technology is not regionally limited - cities around the globe have ongoing projects that effectively deploy digital technology for seamless passenger management and process efficiency."
Dubai airport in the United Arab Emirates also has big - and quirky - plans for biometric technology.
The airport intends to replace traditional security desks with aquarium-like tunnels featuring up to 80 face-scanning cameras disguised as fish. As passengers walk through they are scanned from every angle while they look at the images, and the captured data is compared with existing ID photos.
The first tunnels are due to be installed by the end of 2018, with all terminals to be equipped with the tech-aquariums by 2020.
Tech start-up VChain believes blockchain, the technology underpinning cryptocurrencies, will help provide us with secure, verifiable digital identities that could make airport queues a thing of the past.
Its software generates a signal - a mathematical version of the red, orange, green of a traffic light - about a passenger's passport, helping authorities verify the passenger's identity and build a "reputation" and trust score around that travel document.
These mathematical signals are stored on the blockchain, preventing tampering and achieving verifiable consensus.
The more times the passport and passenger data is verified, the better its reputation becomes, such that inaccurate data entered on a booking website - a common occurrence that contributes to delays - could be corrected automatically, the company hopes.
"[Blockchain is] the best approach we have developed to date as a civilisation for record keeping," claims VChain's chief executive Irra Ariella Khi.
"And good records are good for security, because your risk assessment is always only as good as the records it's based on."
More Technology of Business
The VChain platform is being tested by IAG - the global airline group that owns BA, Iberia, Aer Lingus and Vueling.
"The airport of the future will see passengers breezing through without annoying queues or document checks, with their passport never leaving their pocket," she says.
But wherever biometrics is deployed, concerns about privacy and data protection are sure to follow. Image recognition is getting better, but it is far from infallible, with human rights campaigners such as Privacy International and Human Rights Watch warning about misidentifications and the potential for abuse by authorities.
For its part, BA says it does not hold any passenger ID data, but transfers it to the US Customs and Border Protection identity system, which then sends back anonymised "match" or "no match" signals.
And as long as air passengers benefit from the increased convenience of queue-less air travel, privacy concerns may remain muted.