Government borrowing jumps to £6.8bn in August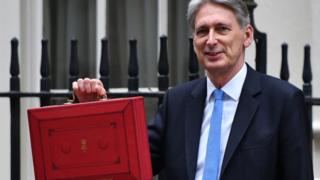 Government borrowing rose by more than expected last month following subdued tax receipts and an increase in expenditure.
Borrowing jumped to £6.75bn last month from £4.35bn a year earlier, the Office for National Statistics said.
It was the first year-on-year rise in borrowing in August for three years.
However, borrowing for the year to date is 30.5% lower at £17.8bn, potentially giving Chancellor Philip Hammond room for manoeuvre in the Budget.
Economists had expected borrowing to be about £3.4bn last month.
Tax receipts rose by 1.6% last month from a year ago, while spending rose 5.4%.
Andrew Wishart from Capital Economics, said: "The worse outturn was due to higher spending than last year. In particular, departmental spending picked up."
Samuel Tombs, chief UK economist at Pantheon Macroeconomics said that the 1.6% rise in tax receipts was the lowest since November 2015 and "will make the chancellor a little nervous".
However, he added that tax receipts were volatile and that borrowing was likely to undershoot forecasts made during the Spring Statement.
"At the very least, he won't need to announce offsetting tax rises to fund the extra money that recently has been earmarked for the NHS," said Mr Tombs.
"Indeed, faced with pressure from his own MPs to boost his party's opinion poll standing and the political imperative to show that the economy has prospered after leaving the EU in March 2019, we expect the chancellor to ease off austerity measures in other areas too, ensuring that fiscal policy doesn't dampen GDP growth next year."
The ONS figures showed that the total level of public sector net debt, excluding state-owned banks, rose to £1,781.9bn in August, the equivalent to 84.3% of gross domestic product.