Wetherspoon, McDonald's and TGI Fridays workers to strike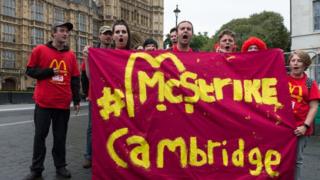 A co-ordinated day of strike action is planned by workers at a small number of JD Wetherspoon, McDonald's and TGI Fridays outlets over pay.
A rally is planned for 4 October in London, the Bakers, Food and Allied Workers Union (BFAWU) said.
The workers want to obtain a pay deal of £10 an hour.
JD Wetherspoon said it had increased pay for workers, while McDonald's said the action was not widespread. TGI Fridays had no immediate comment.
The strike is part of an international day of action by fast-food workers, a BFAWU spokesperson said.
The union spokesperson confirmed a report in the Guardian that workers at two Wetherspoon pubs in Brighton - The Bright Helm and The Post & Telegraph - were preparing to join the action.
Workers from three TGI Fridays chains and four McDonald's outlets were also expected to join the rally, which the BFAWU said had been inspired by industrial action in the hospitality sector last year.
Workers from McDonald's staged their first strike in the UK last year in a dispute over zero-hours contracts and conditions while TGI Fridays staff in Milton Keynes and Covent Garden walked out in May in a row about tips and wages.
Chris Heppell, a team leader at The Post & Telegraph pub, told the BBC he and co-workers had seen the McDonald's strike and felt inspired.
The 29 year-old is on £8.65 an hour and said he paid extortionate rent and worked in a "physically and emotionally" exhausting job. A rise to £10 an hour would "give me an opportunity to pay off debts".
"We don't feel we have a voice and if we come together then collectively we will be listened to," Mr Heppell said.
Matt Rouse, 22, a kitchen worker at the Bright Helm, said: "This is only the beginning, we will keep fighting for everyone, for better wages and rights for hospitality workers across the country".
'Rising up'
Wetherspoon said it had announced £20m-worth of pay rises last year and £27m for this year, with pub managers put on 40 hour week instead of the current 42.5 hours from April 2019.
"We are also moving to the same [pay] rate for 18-21s as we already have for over 21s from November 5 2018," a Wetherspoon spokesperson said. "In addition we are putting up the rate of pay."
Lauren McCourt, a worker at McDonald's, said: "We're joining with Wetherspoon's and TGI Friday's workers because when we come together, hospitality workers have the power to transform our sector."
A spokesperson for McDonald's said the chain had been notified of industrial action in four outlets - Cambridge, Crayford, Watford and Brixton.
"Any suggestion that this activity is widespread and growing is not accurate - we understand that fewer of our employees are involved in potential industrial action than last May, with the support from our people of the union diminishing," said McDonald's, which a workforce of 120,000 in the UK.
"In Brixton, for example, just two of our employees have been balloted for strike out of a workforce of more than 100," McDonald's said.
Conditions of workers in the restaurant and pub trade have been highlighted in recent years since claims that some chains were regularly holding back some or all of the tips meant for staff.