Coca-Cola 'in talks' over cannabis-infused drinks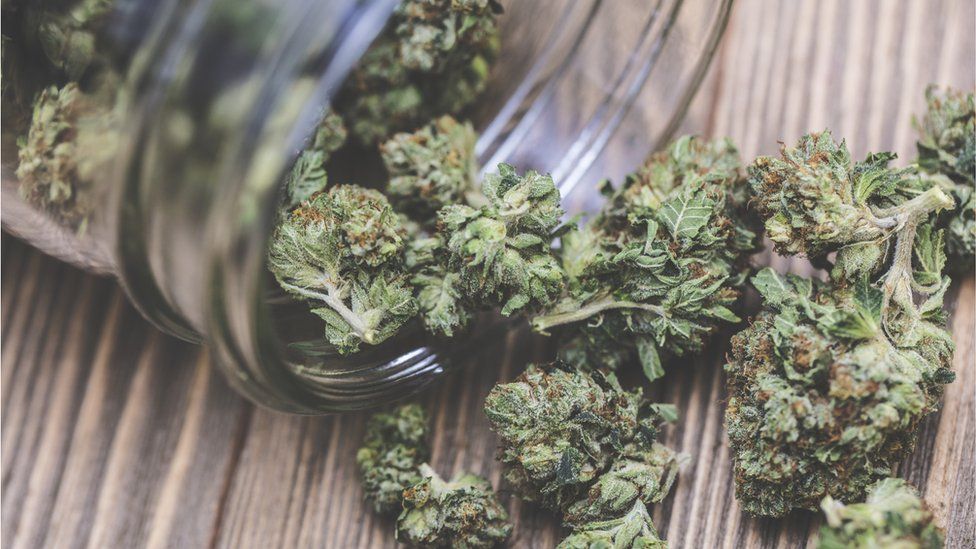 Coca-Cola is best known for its eponymous caffeine-based drink, but the firm now appears to be experimenting with a different drug: cannabis.
These would not aim to intoxicate consumers but to relieve pain.
The firm declined to comment but said it was watching the cannabis drinks market closely.
"Along with many others in the beverage industry, we are closely watching the growth of non-psychoactive cannabidiol as an ingredient in functional wellness beverages around the world," Coca-Cola said in a statement.
Cannabidiol, a constituent of cannabis, can help ease inflammation, pain and cramping, but has no psychoactive effect.
It comes as Canada prepares to follow certain US states in legalising cannabis for recreational use, after years of permitting it for medicinal purposes.
It has given rise to a large pot growing industry and some high-profile partnerships.
Earlier this year, beer giant Molson Coors Brewing said it would make cannabis-infused drinks with Hydropothecary, while Corona-beer maker Constellation Brands invested $4bn more into pot firm Canopy Growth.
A partnership between Coke and Aurora would mark the first entry of a major manufacturer of non-alcoholic drinks into the market.
Quoting unnamed sources, BNN Bloomberg said Coca-Cola was in "serious talks" with Aurora but no deal had been finalised.
"They're pretty advanced down the path" of doing a deal, one source was quoted as saying.
"It's going to be more of the 'recovery drink' category," the source added.
Aurora, in a separate statement, said it would not discuss business development initiatives until they were finalised, but added: "Aurora has expressed specific interest in the infused beverage space, and we intend to enter that market."
Coca-Cola's shares rose marginally in early trade on Monday.