Unilever relocation plan rejected by major shareholder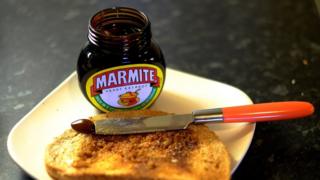 One of the top shareholders in Unilever has said it will vote against the firm's plan to move its headquarters to the Netherlands, amid growing investor concern about the plan.
Aviva Investors told the BBC the move could force UK shareholders to sell their shares and offered "no upside".
Unilever, which makes Marmite and Dove soap, is relocating to simplify its corporate structure.
It needs 75% of shareholder votes to get the plan through.
Unilever has headquarters in both London and Rotterdam, but announced in March that it planned to have just one HQ located in the Dutch city.
The company is one of the biggest firms in the UK's FTSE 100 share index with a market value of about £124bn.
However, under UK rules it would no longer be eligible for inclusion in the FTSE 100 in London after the proposed change.
Shareholders fear this would cause a rush for the exits to sell the stock, leading to losses.
David Cumming, chief investment officer for equities at Aviva Investors, told BBC Radio 4's Today programme: "Aside from the fact it is disappointing to see a world-class company like Unilever leave the UK, it also means longstanding UK shareholders may be forced to sell their stock.
"I don't see logically why any UK shareholder would support their decision to go Dutch, because there is no upside only downside."
Some have speculated Unilever is making the move because of Brexit - claims the firm denies.
Mr Cummings said he believed the company is also seeking "protection" after a failed takeover attempt by US food giant Kraft Heinz in 2017.
According to the Financial Times, more than a fifth of Unilever's top 50 shareholders have expressed concerns privately about the relocation.
Another institutional shareholder, Lindsell Train, echoed Mr Cumming's concerns about becoming a forced seller "at a time and price not of our choosing".
Lindsell Train held a 2.5% stake in the company as of July, while Aviva holds 1.4%. Other shareholders include BlackRock, the world's largest asset manager, and Leverhulme, both of which hold more than 5%.
A Unilever spokesman said the company was confident it would win the approval of shareholders: "We have engaged extensively with our shareholders and we believe the vast majority are fully supportive of the board's proposal."
This story was originally published on 17 September 2018