How to scam millions from 170 people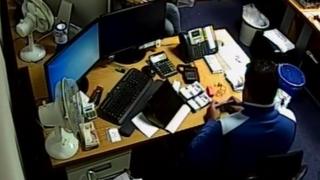 What does it take these days to con 170 unwitting members of the public out of £2.8m?
That's something Michael Nascimento and his five associates know how to do very well.
He, Charanjit Sandhu, Hugh Edwards, Stuart Rea, Jeannine Lewis and Ryan Parker have all been found guilty for their part in that very scam.
They ran a call centre where investors were told their money would go into shares in businesses such as a property development in Madeira.
After setting up their call centre, they found some land that sounded like an appealing investment on the island of Madeira, close to a golf course.
They set up companies to hold that land, which they marketed on the internet, selling shares in the companies.
To add the finishing touches, they hired offices with a respectable-sounding address near legitimate investment companies in the Docklands Business Centre.
And finally they set up a call centre, which in fact was an aggressive share sales operation - a so-called "boiler room".
Cut and paste
Once they had done that they bought a list of phone numbers and email addresses of people with money to invest.
Those that expressed an interest in the property investment were sent brochures from the seemingly respectable address. The material in the brochures was cut and pasted from electronic documents of respectable companies.
To make it look pukka, they stole the names of well-known City investment outfits and adapted them slightly so that few outside the legitimate investment world would question their credentials - using names like "Morgan Forbes", "First Capital Wealth", "Wallberg Dillion Reid" and "Bishops of Mayfair" - and promised the shares in those companies would produce "guaranteed returns" of 131.2% and 228%.
School fees and Arsenal
Of course, these companies weren't really what they said they were. The land existed and investors could see the title deeds; but it was never going to get planning permission.
The golf course was cancelled. The shares investors were sold were in companies with no legitimate purpose.
The money really went into employing people to keep the scam going and renting the offices before flowing into foreign bank accounts and finally into the scammers' pockets.
After that, it went into whatever Nascimento wanted to spend it on.
His daughter's private school fees; Arsenal season tickets; a freebie with his pals to Thorpe Park.
So common is this type of scam - the so-called "boiler room" fraud - that thousands are defrauded every year - often losing their life's savings with devastating consequences.