New £460k trial to cut lorry numbers in London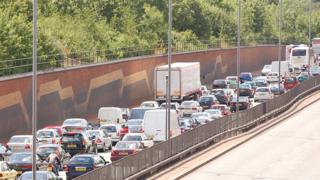 A £460,000 scheme that aims to improve air quality in London by reducing the number of lorries on roads has been revealed.
Transport for London (TfL) has announced a £230,000 funding pot, which it says will be matched by businesses.
Six business groups will take part in a trial to cut the number of heavy vehicles on the roads.
Emily Herreras-Griffith from TfL said it wanted "to help create and maintain healthy streets".
The trial will see business rubbish collections from Borough Market consolidated, meaning one electric truck will collect waste from 15 firms every day and take it to a recycling centre nearby.
From there, the rubbish will be collected by a waste collection lorry once a week instead of from each business every day.
---
Analysis: Tom Edwards, BBC London transport correspondent
Ok, this isn't the sexiest, glitziest transport project on the planet - it's not sparkly brand new tunnels or trains.
But sometimes the best solutions can be the simplest.
No-one is saying this will completely solve congestion but by working together, businesses could take some lorries off London's roads.
Other areas are watching these kind of trials closely.
The question is, if they are successful - how far they will spread in the capital?
---
TfL said other projects involve underground waste storage containers being installed in Vauxhall to reduce the number of rubbish collections, as well as the promotion of cycle freight in and around London Bridge and introduction of electric vehicles for collections.
Up to 70 lorry trips could be taken off the roads during one trial, it said.
Ms Herreras-Griffiths, TfL's travel demand management programme director, said: "We are pleased to be working with these business groups to help create and maintain healthy streets in which business can thrive while contributing to the capital's continued growth."