Recovery and clouds on the Spanish horizon
By Kevin Connolly
BBC News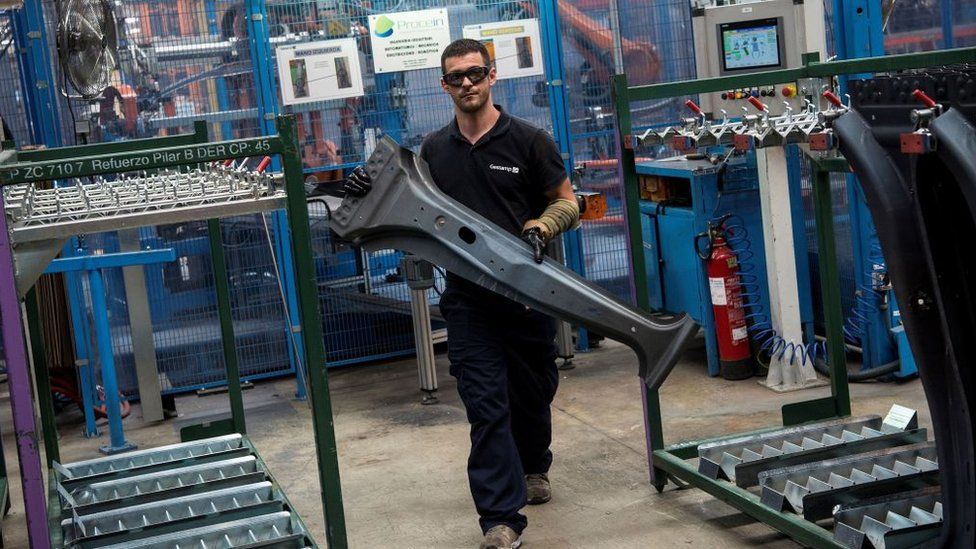 Ten years on from the crisis in the depths of the American banking system that triggered a global economic shock the real question is this - should we be looking back towards the last catastrophe or counting down to the next one?
In Spain where both the physical and financial landscape were altered by the aftershocks that followed the collapse of the Lehman Brothers bank it is possible to find two great cliches of economic journalism side-by-side.
There are green shoots of recovery on the ground - but there are certainly storm clouds on the horizon too.
Headlines from Spain after the economic crisis were often illustrated by pictures of empty apartment blocks in the deserted streets of ghost towns - communities built with borrowed money which were abandoned when developers went bust, banks stopped lending and families stopped buying.
There are still plenty to be found but in the municipality of Valdeluz, a short drive from Madrid, we found something more interesting. A ghost town which is showing signs of coming to life.
The local mayor Miguel Coceras is in no doubt that he is transforming his town from a "municipio de fantasma" into what he calls a "municipio estrella" - a star city.
Certainly if personal energy could be converted into electricity generation Miguel would produce enough in the course of a short meeting to power the whole town.
"We are only a local government, so how does a local government face a global crisis?" he asks. "The answer is to focus on the person beside you, the person living near you."
Miguel is a socialist and so for him part of the answer to the crisis was to use public spending to help prime the pump of the local economy - although he points out that it's not only socialists who believe in public sector investment, pointing to stimulus-spending in the United States to make his case.
"If you decided to invest to give your citizens more education, culture and sports you're going to give them a better quality of life, and this is what we decided," he explains.
Realistically the mechanisms of market economics did their bit too, lowering property prices to make them more attractive.
But Miguel sees Valdeluz as a success story for government action and argues that where two years ago 90% of the town's apartments were empty, today 90% are full.
The problem for Spain is that success hasn't really been repeated on a national scale even as the country has grown out of crisis.
On the drive back from Valdeluz to Madrid you can find a desolate stretch of unfinished motorway called MP-203.
The surface of the highway was laid, although the lanes were never marked and electrical cables hang down from the roof of a partly-completed toll booth.
It was designed to relieve pressure on the existing motorway system - the kind of road project that governments undertake when an economy is booming or when money is being borrowed to boost public spending.
It doesn't look as though there are any plans to finish it now - to walk along the deserted fast lane is to feel like an archaeologist of the financial crash.
And there are plenty of other signs too that Spain's recovery has a long way to go.
In a suburb of Madrid we went to a meeting of Plataforma de Afectados por la Hipoteca, an organisation that campaigns to stop banks foreclosing on properties where families can't keep up their mortgage payments.
Some of the rhetoric from the activists offers a familiar left-wing analysis of the crisis. "Don't you know that banks don't pay tax and rich people don't pay tax?" one of them asks me, but others see the issue of repossession as clear evidence that it's simply too early to say that financial crisis is over.
When I ask one woman, Carmen Aguilera, if this is evidence that poor Spanish people are paying the price for mistakes made by wealthy American bankers she replies: "Nothing has changed, and the banks haven't changed."
But even if you don't take the view that the crisis of 2008 is still going on, it's still possible to be very worried that it could repeat itself.
Banks which were deemed "too big to fail" are bigger than ever by some measures and in many economies private debt has ballooned to alarming levels.
Prof Carlos Rodriguez Braun is an historian of economic thought who laughs out loud when he's asked if he's a pessimist.
"We have a saying in Spanish, 'a pessimist is a well-informed optimist'," he explains.
He is gently dismissive of the Valdeluz model that increased public spending in itself is the answer - if using public money to raise demand was the answer, he points out, there'd never be any economic crises.
Prof Braun goes on to explain that one of the key policy tools used to combat the crisis has been quantitative easing - a way for central banks to pump money into the financial system - and that in spite of its fancy new name it is a variation on tools which have been used in the past.
Overall it's clear that he is something of a pessimist.
He agrees it's a question of "when" rather than "if" there's another financial crisis, adding simply: "Unluckily I don't know where or when. But if you have the same system and recipes you had in 2007 why would you be sure that you're not heading for a new crisis?"
Not everyone of course is a pessimist, if only because such unanimity would require a degree of agreement amongst economists, but from Prof Braun it certainly feels compelling.
And it might help to explain why no-one is rushing to finish the work on Motorway MP-203.