Dyson gears up for electric car testing
By Chris Johnston
Business reporter, BBC News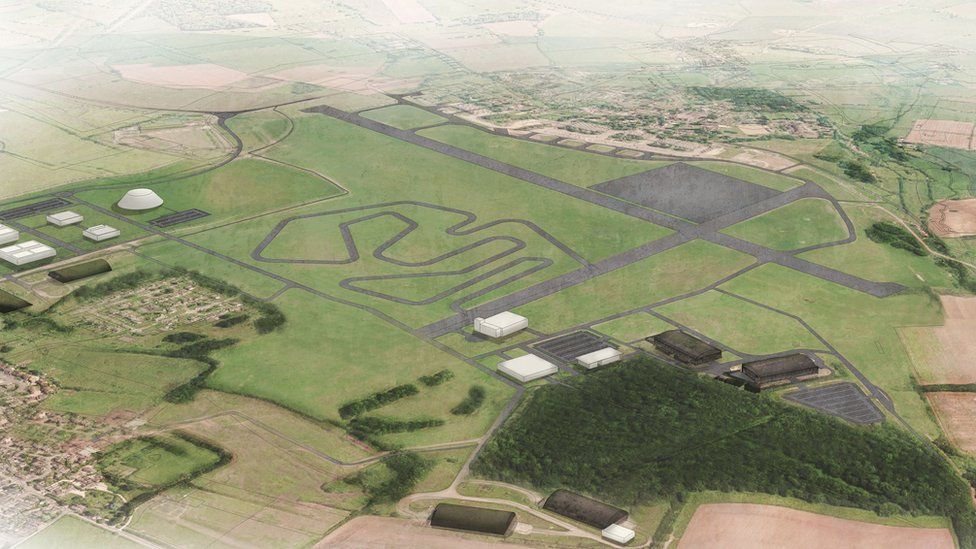 Dyson has unveiled plans for a 10-mile test track in Wiltshire where its new electric cars will be put through their paces.
The company best known for its vacuums and domestic appliances bought the disused airfield at Hullavington two years ago.
Dyson has already renovated two hangars built in 1938 at the 517-acre site.
That redevelopment has cost £84m and the next phase of the airfield's development would take Dyson's total investment to £200m.
About 400 automotive staff are now based at Hullavington and a further three buildings will open in the coming months, offering an additional 15,000 sq m of testing space.
Jim Rowan, chief executive of Dyson, predicted that Hullavington would soon become a "world-class vehicle testing campus".
"We are now firmly focused on the next stage of our automotive project strengthening our credentials as a global research and development organisation," he said.
Sir James Dyson, 71, is yet to reveal any details about his electric car and no prototype has been built.
However, it is expected to be aimed at the upper end of the market, will have "some" driverless features and may not even look like a conventional vehicle, he told GQ magazine earlier this month: "What we're doing is quite radical."
The hints suggest Dyson's vehicle is more likely to rival Elon Musk's electric carmaker Tesla than the likes of Toyota or Volkswagen.
It remains unclear where Dyson plans to build its electric car.
The company, whose products cost as much as £500, came in for criticism in 2002 for its decision to move production of its vacuum cleaners from the UK to Malaysia at the cost of 560 jobs.
It has more than 12,000 staff, including 4,500 engineers and scientists, with 4,800 employees in the UK.
The R&D site was originally an RAF training station, first opened in 1937, and it played a significant part during World War II as a flight school and base for about 1,000 aircraft.