Grand National 'could be hit by no deal Brexit', warns racing group
By Clare Matheson
5 live Wake Up To Money reporter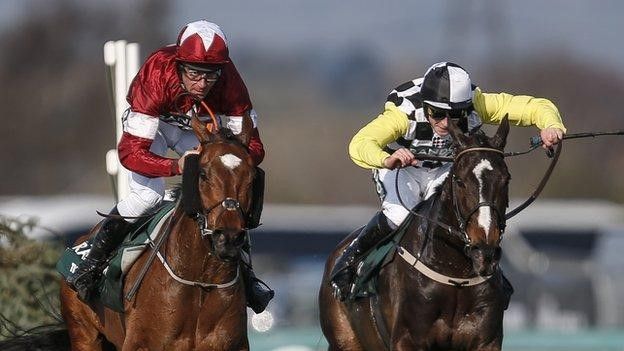 Next year's Grand National could look very different if the UK leaves the EU without a deal, the British Horseracing Authority warns.
Crashing out of the EU would potentially have a huge impact on Irish trainers and Irish horses.
And it could see the end of the Tripartite Agreement system which allows horses to be easily moved between the UK, France and Ireland.
Eight Irish-trained horses have won the Grand National since 1999.
That includes this year's winner Tiger Roll, which is stabled in County Meath, but has triumphed at the Cheltenham Festival as well as as Aintree.
Ross Hamilton from the BHA told Radio 5live's Wake Up To Money Business Of Sport: "If the position was that the UK government chose to immediately put up borders and tariffs then would make it extremely difficult for thoroughbreds to move.
"It would only be about a month ahead of the Grand National in 2019, which would be quite an impact, a threat to potential Irish horses' participation in the race, Irish jockeys being able to compete in races over here if it was a really hard, no-deal Brexit."
He added that, in that position, the main issue for Irish trainers would be whether they were "comfortable" taking their horses over to the UK and being sure they get them back home again after the race.
But the BHA did say it has been working hard on its preparations for Brexit, examining the potential implications of all scenarios and taking preparatory action.
It even went so far as to speak to the government before the referendum took place.
Mr Hamilton added that, based what has already been released in the Brexit papers, the BHA believes the government wants to maintain the status quo "as far as possible after Brexit".
"The big question will be - and this is a matter for our colleagues in Ireland and France to be representing to their own governments and the Commission - is whether the Commission chooses to reciprocate."
If there were to be no deal, the BHA is prepared to put in place a number of measures, he added.
"We do get horses from further afield than France and Ireland to compete in our races and we have an established procedure in place to deal with those countries."