House of Fraser rescue details emerge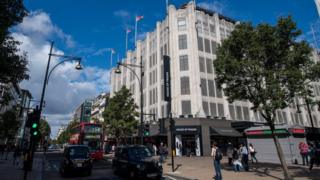 "I'm very happy for the customers, especially our regulars," said the shop assistant manning one of the shoe concessions inside House of Fraser's flagship London Oxford Street store.
It had been due to close but will now remain open.
Less than a fortnight after it was bought out of administration by Sports Direct, the new owner moved quickly to secure a deal with the landlord - much to the relief of staff.
And agreements have been reached to keep the House of Fraser stores in Telford and Plymouth open too, safeguarding more than 230 jobs.
But what about all the other stores?
Sports Direct's billionaire founder Mike Ashley has said he would try to keep 80% of them open.
He's been in talks with individual landlords to try to secure new rent agreements. Some of these negotiations are continuing through the bank holiday weekend.
The terms of what's being offered are starting to become clear.
Some landlords are being asked to sign deals where they won't receive any rent at all, others are being offered rent equivalent to 5% of turnover at the store.
One retail property expert said: "A lot of these landlords will be staring down the barrel. They probably don't have a plan B so some will think this is quite attractive. They continue to trade, without the burden of business rates which gives them at least a year to come up with a plan. If the stores trade successfully, then there's always the possibility of a better deal with Ashley down the road."
BBC News understands that landlords have been presented with three different options: a handful of stores to receive the same rent pre-administration, just under half could see deals based on 5% on turnover, including service charge (a levy paid to landlords to cover running costs) leaving 28 stores which could end up with "rates" only deals.
In other words, the landlords get no rent, but their business rates bills would be covered, as well as the service charge.
This latter deal, or licence, would last for two years with a three-month break clause after 12 months.
'Better outcome'
And those final deals could vary, depending on the strength of the property and alternatives landlords may have. And if Mr Ashley's team believe a store is unviable, he can choose to hand back the keys and not take it on.
The majority of landlords will end up taking a financial hit. But some believe it will actually be a better outcome than an earlier restructuring deal that would have seen 31 stores close altogether.
The president of the retail and property organisation, REVO, believes it's the least worst option: "The purchase of HOF is a far better outcome than the CVA for employees; customers; other retailers and typical pensioners who are invested in the real estate through their shares in the landlords or their Pension Funds.
"It also shows there remains strength in the department store sector and Mike Ashley will want to prove he can turn this business around".
Cost covering
Offering rates only deals, often known as meanwhile leases, is an unprecedented move for such a big, established retailer.
Property experts say these can make sense if the tenant is offering to cover costs such as business rates and insurance, which the property owner would incur if the store was left empty.
Ian Fletcher, director of real estate policy at the Property Federation says this can provide a breathing space while a longer-term solution is sought, such as redevelopment or securing a new tenant.
And he says it can also be good for local communities and neighbouring businesses, ensuring that empty stores don't blight their high streets by depressing the number of shoppers visiting.
But Mr Fletcher also said: "The challenge is this can be seen as creating unfair competition between retailers. This sort of lease has typically been much more common among charity and community groups, where unfair competition is less of an issue."
Rates only leases may be far from normal, but in this case it may ensure more stores remain open, or certainly for longer, as Mike Ashley begins one of the biggest and most challenging turnarounds in retail.
Thousands of jobs are relying on it.