Rail fares predicted to rise 3.5% next year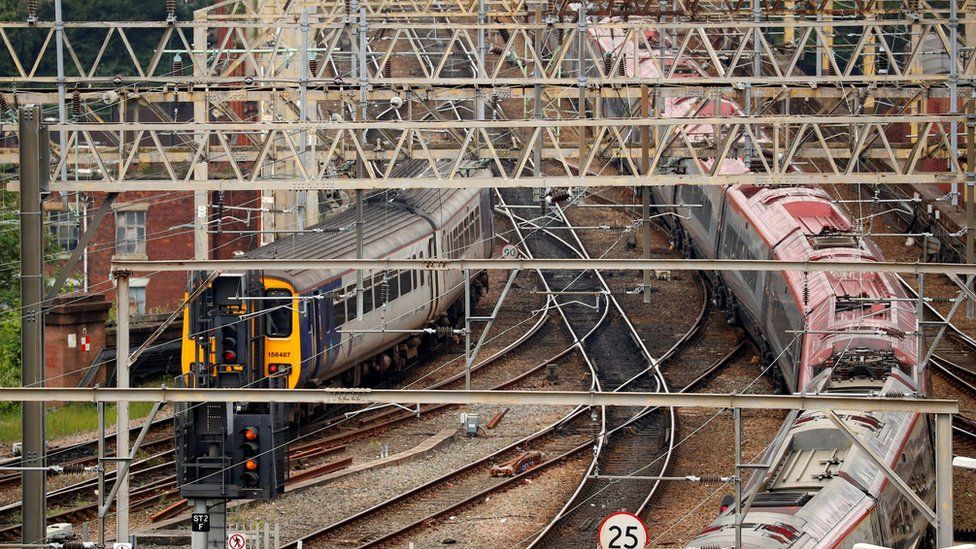 Millions of commuters are set to face a 3.5% rise in rail fares from January.
The exact increase will be announced on Wednesday when official inflation figures - used to set the price increases - for July are published.
The expected rise comes after magazine Which? found rail firms are the second least-trusted industry in the UK.
Economists are predicting that the Retail Prices Index measure of inflation - the number used by the Department for Transport to set rail fare increases - will increase by 3.5%.
Campaigners have called on the government to freeze rail fares and use a different measure of inflation, the Consumer Prices Index, to determine rail fare increases. CPI does not take into account the cost of mortgage payments and tends to be lower than RPI.
The Department for Transport said taxpayers subside the network by more than £4bn a year. "Any fare increase is unwelcome, but it is not fair to ask people who do not use trains to pay more for those who do," a spokesperson said.
Former Transport Secretary Lord Adonis likened the fact that one in five people was not satisfied with their last journey to a "national crisis".
He said: "Can you imagine if one in five people coming out of a supermarket were not happy with the food they were buying?
"Passengers shouldn't be expected to pay more for a worse service."
And some train users have already vented their anger on Twitter. Jean Thierry said: "A substantial service improvement is required to justify any sort of increase in fares."
Rail fares predicted to rise 3.5% next year
How can fare increases be justified when services are deteriorating and trains are being cancelled or subject to long delays. A substantial service improvement is required to justify any sort of increase in fares https://t.co/TRr4jo2XnN

— Jean Thierry (@MutliRaceMan) August 13, 2018
Another user said: "can someone explain to us why we have some of the highest train fares in Europe with poorer services?"
Doesn't matter how frozen the fares on if they can't be relied upon to get you home. Running a scheduled train is literally "the very least" they can do.

— Ian Robinson (@ChorleyRobbie) August 13, 2018
In May, an overhaul of rail timetables led to widespread rail disruption with Northern bringing in a temporary timetable that removed more than 100 trains a day, while Thameslink, Southern and Great Northern also introduced a reduced service.
On Sunday, Northern cancelled services for Liverpool, Lancashire and Greater Manchester. There was similar disruption on 5 August and across the UK on the day of the World Cup final.
Labour called on the government to freeze rail fares on the routes most severely affected by the timetable changes - Govia Thameslink, Arriva Rail North and First Transpennine Express as a "small gesture of goodwill" for passengers.
The Campaign for Better Transport also called on the government to freeze fares.
"Given the mess surrounding the new timetable, the lack of improvements and the failure to deliver compensation. the government cannot go on telling passengers that fare increases are justified," a spokesperson said.
Consumer group Which? said rail fares have increased by 40% since 2008 - more than one-and-a-half times higher than the rise in CPI inflation (26%) over the same period.
The rail fare rise is taking place at a time when a survey by consumer body Which? found that the train industry was the UK's second least-trusted consumer industry.
Which?'s consumer insight tracker found that in July 2018, only 23% trusted train travel. This represents a six percentage-point drop compared with July 2017.
"In fact, this makes train travel one of the least-trusted consumer industries, beaten to last place only by car dealers," Which? said.
Rail Delivery Group spokesman Seb Gordon admitted the rail industry "had a pretty torrid time" since the May timetable came into effect.
But added: "The last survey, which is the survey that Which are quoting, showed that about 80% of passengers were satisfied with their last journey."
Please include a contact number if you are willing to speak to a BBC journalist. You can also contact us in the following ways: