Smart meter deadline 'should be extended'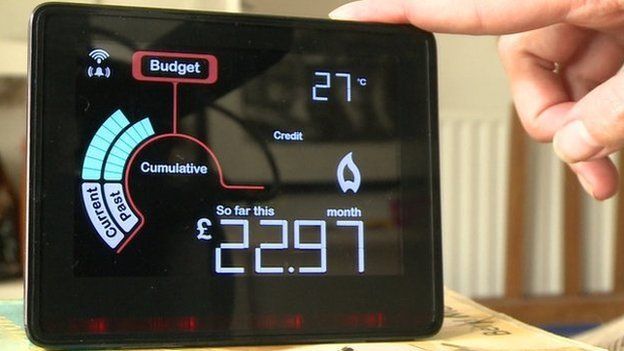 The deadline for installing smart meters across the UK should be extended for another three years, Citizens Advice has said.
Up to 53 million smart meters, designed to replace traditional gas and electricity meters, are due to be installed in 30 million homes and businesses by the end of 2020.
But Citizens Advice said it would be "more realistic" to aim for 2023.
Otherwise, time pressures could lead to poor quality installations, it said.
Extending the deadline "would give suppliers the time they need to fix these problems and improve the experience for all consumers", it added.
Energy and Clean Growth Minister Claire Perry told the BBC that smart meters were being rolled out as quickly as possible and customers were already saving money.
She added: "Frankly, I don't want to do anything that means the energy companies can take their foot off the pedal, because I think this programme is worth a lot, both to British consumers and households, but also to the British energy system."
Citizens Advice said: "With 42 million smart meters still to be installed by 2020, we're concerned that the time pressure caused by the fast-approaching rollout deadline will lead to a poorer quality installation experience for consumers.
"A poor quality customer experience risks undermining confidence and support for what is an important technology."
Citizens Advice said 80% of people who had had a smart meter installed were happy with them.
However, in 2017, its consumer helpline received 3,000 calls concerning smart meter problems.
These included first-generation smart meters losing their functionality, aggressive sales practices and customers still having to send their smart meter readings.
"Smart infrastructure is needed to modernise the energy sector and will bring a raft of positive changes to consumers," Citizens Advice said.
"They give people more understanding and control over their energy use, as well as enabling them to access smart products in their home, and more choice in tariffs."
Robert Cheesewright, from Smart Energy GB, which promotes understanding of smart meters, said: "Smart meters will deliver billions of pounds worth of savings to our economy, and will pave the way for a cleaner, greener and more efficient energy system.
"By getting a smart meter, we can all save money on our gas and electricity bills and stop manual meter readings and inaccurate estimated bills."
Related Internet Links
The BBC is not responsible for the content of external sites.