Paddy Power Betfair plays down £2 stake cut impact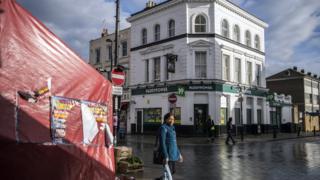 Gambling firm Paddy Power Betfair has said it can withstand the government's plan to cut the maximum bet on fixed-odds betting terminals [FOBTs] to £2.
The company made the statement as it reported a 4% rise in first half profits to £106m.
"Our shops are more profitable, and outperform on sports betting, enabling them to better withstand the impact of lower machine stakes limits," the company said.
The stake is being cut from £100.
FOBTs generate £1.8bn in revenue a year for the betting industry, according to the Gambling Commission, as well as taxes of £400m for the government.
High footfall
"We operate in high-footfall, highly competed locations, which means we are well placed to benefit from competitor shop closures," Paddy Power Betfair said.
"In the UK, we do not expect the government's proposed new £2 stake limit for gaming machines to have a material impact on our retail strategy," it added.
Rival William Hill, which generates just over half its retail revenues from FOBTs, has warned 900 of its shops could become loss-making, potentially leading to job losses.
Paddy Power Betfair said the proposed FOBT cut to £2 would reduce its revenue from gaming machines by between 33% and 43%.
Based on its 2017 figures, this could suggest revenue would fall by up to £46m, which it said amounted to 2.6% of its total revenue.
It also gave a gauge of the government's plan to increase remote gaming duty to offset some of the lost tax from FOBT. Each one percentage point rise - from the current level of 15% - would result in an extra £2.5m of duty to be paid.
Paddy Power Betfair said it had donated £170,000 to LGBT charities as part of its "Rainbow Russians" campaign, which included making a donation every time Russia scored in the World Cup.
It was also behind the "official bus of gay professional footballers" that was on show at Brighton Pride.
Paddy Power Betfair is pushing into North America by buying US fantasy sports betting site Fan Duel.
It said losses from the Fan Duel business and new taxes in Australia would put pressure on its full-year results.
Ed Monk, associate director of Fidelity Personal Investing's share dealing service, said: "It wasn't all about the World Cup for Paddy Power Betfair. Half-year numbers showed a 13% boost in revenue in the second quarter of 2018, but revenue was up 9% in the period prior to the tournament."
Paddy Power Betfair has been increasing its spending on advertising since March in an attempt to arrest its falling market share.
Peter Jackson, its chief executive, said this was paying off: "The World Cup was a showcase event for Paddy Power, with a series of successfully executed marketing campaigns leading to it being one of the UK's most talked about brands in social media conversations around the tournament."