Who is House of Fraser's Yuan Yafei?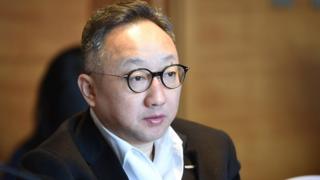 He's been described as a wily chain-smoking deal-maker who made his start in business selling computers by a toilet.
But China's Yuan Yafei, a former government official, has come a long way since then.
Today he is the Chinese billionaire who holds the fate of 17,500 House of Fraser workers in his hands.
Mr Yuan's Sanpower Group, a firm he founded in 1993, snapped up 89% of a struggling House of Fraser in 2014.
The self-made Chinese tycoon had grand plans to save the struggling 169-year-old retail chain and turn it into a global entity.
Instead, the 54-year-old is now watching his famous department chain go into administration, while 31 stores have already been earmarked for closure.
So what's gone wrong?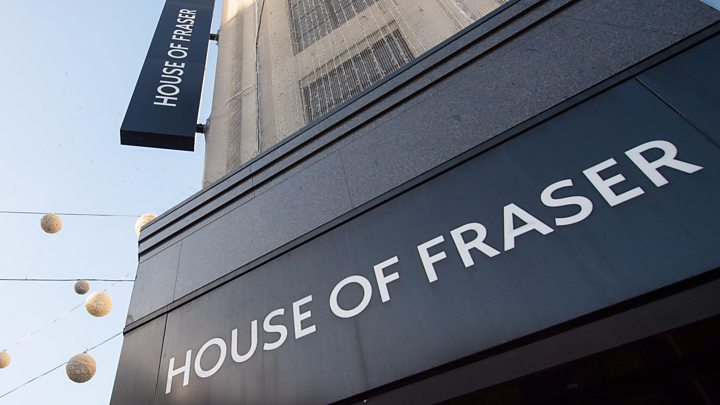 Based in eastern Nanjing in China's Jiangsu province, Sanpower Group is Mr Yuan's private multi-national conglomerate with interests ranging from pharmaceuticals to real estate and retail.
Like so many big opaque Chinese conglomerates, though, it owns or has large shareholdings in several public firms at home and abroad, including Shenzhen-listed Nanjing Xinjiekou Department Store - one of the oldest department store businesses on mainland China.
When Mr Yuan acquired a cash-strapped House of Fraser in 2014 he thought the deal would help him expand his existing retail interests. He admired its long history, its staunchly British background, and its high-street retail reputation.
He promised to help revive the firm with investments, and wanted to see it get on top of its debt.
The tycoon also had grand plans for the House of Fraser brand in China, envisaging about 50 "Oriental Fraser" stores across the country. And he thought he could push the UK chain out as far afield as Russia.
In February this year, as House of Fraser's financial worries in the UK continued, Mr Yuan seemed confident, telling the BBC's Robin Brant he still had big expansion plans for the chain in China.
But to-date, as old-fashioned bricks and mortar stores continue to struggle against the global boom in online shopping, just two Oriental Fraser stores have been launched, and there's no word on Russia.
Meanwhile, Nanjing Xinjiekou, the Sanpower-controlled entity that actually owns House of Fraser, has seen its shares lose almost 70% in the year-to-date.
More complicated still is that earlier this month, a Beijing court froze for three years the 27% of Nanjing Xinjiekou shares that are owned by Sanpower.
There's also Mr Yuan's investment in Brookstone - a US novelty mall chain in the US - which has gone belly up. Earlier this year, the chain announced it was filing for bankruptcy and closing its more than 100 stores.
And finally, there's a question around the overall health of Sanpower's finances.
On 23 July, the Chinese giant asked the Shanghai Stock Exchange to put a halt on trading some of its bonds, citing worries over some trades. But rumours abound it's in much deeper trouble than that after a recent debt-fuelled buying spree.
Just like the Chinese giants HNA and Anbang, Mr Yuan's Sanpower has in recent years scooped up (and, in some cases, spat out) international businesses with a vengeance - including Natali, the largest private healthcare firm in Israel, and US biotech firm Dendreon.
So there's no money at all?
Make no mistake, Mr Yuan is rich. His real time net worth is valued by Forbes at $1b.
And it seems he spreads that money around. He's received lots of awards locally, including China's Charity Person of the Year and Brand China's Man of the Year, and his relationship with Prince William through a wildlife foundation is reasonably well documented.
But with House of Fraser's debts mounting, would it be so surprising if the billionaire decided to just walk away?
The most recent plan to try and save House of Fraser was for Nanjing Xinjiekou (the firm that's seen its stock slide nearly 70% this year), to sell up a 51% stake in the UK retail giant.
But advanced talks to sell to tourist firm Wuji Wenhua fell through earlier this year. Then just last week, a deal to sell to C.banner, which owns the toy store Hamley's, fell over too.
The very latest gossip on the street is that there may be three new prospective buyers for the famous High Street chain - and that if one comes through, House of Fraser and some staff might just be saved.
What Mr Yuan might think about that, though, is anybody's guess.